Worlds Lightest Deep Alloys : 2024 Kinetic-One K1-42SL Vapour - RIM BRAKE Wheelset
You will earn
0 reward points
with this purchase
Sharing is caring

Send this to a friend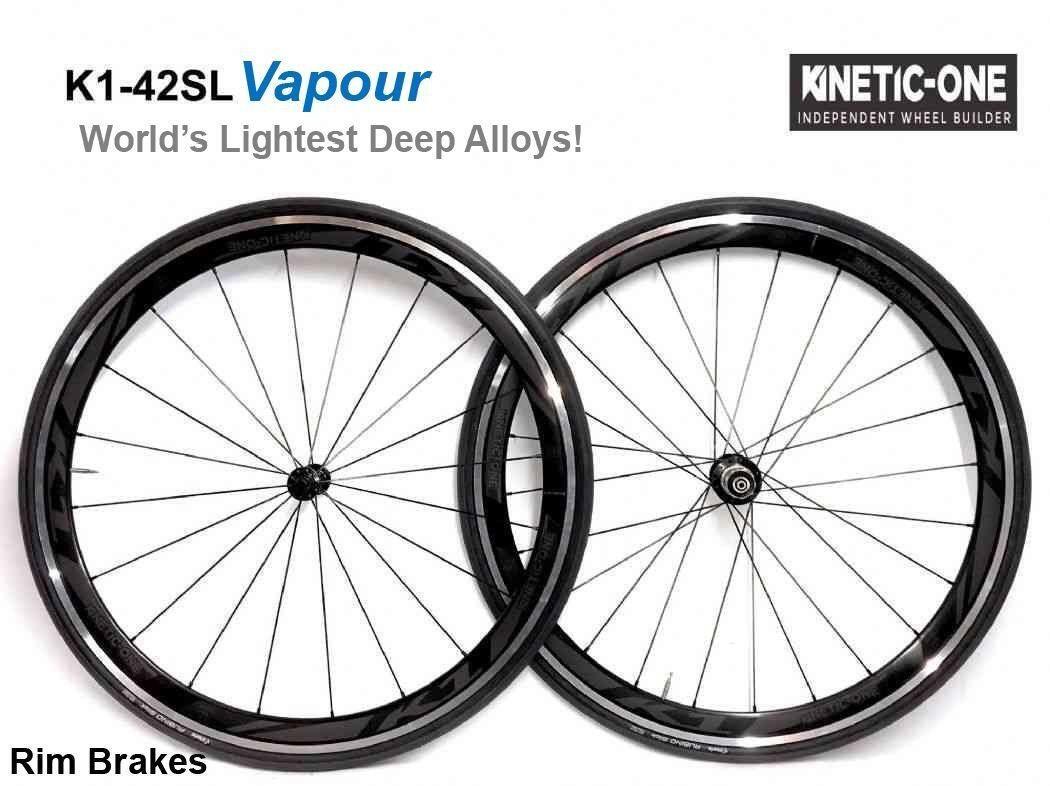 SCROLL ACROSS TO SEE OUR STUNNING NEW DECAL OPTIONS

INTENDED USE:  What we believe to be the WORLD'S LIGHTEST ALLOY DEEP-SECTION WHEELSET.  
They are so light they are as good for climbing as they are for Time Trial and triathlon. And with the reassurance of alloy braking and high-strength..... they may just be the only set of CLINCHER wheels you will ever need.. 

Deep alloys from 1495 grams to 1750 grams. How is this even possible? - when the lightest wheels offered by the big brands are factory wheelsets over half a pound heavier.
---
The answer is pretty simple. Take the best aerospace alloys and lightest (affordable!) hubs and spokes. Then pay huge attention to every detail down to spoke nipples and rim welds. Then hand build these wonderful components to incredibly tight tolerances and you're there.
And whilst these wheels are really very light - they are also very strong!  The Vapour's are constructed from the highest grade Nickel strengthened superalloys - these are aerospace grade materials requiring extremely sophisticated manufacturing processes. Very few metalworkers are able to make and work with superalloys in fact as it involves combining metals of vastly differing melting points. It's a bit like Alchemy!
The result is a metal rim with strength similar to Titanium, weight similar to carbon, and responsiveness akin to Steel. You won't find these alloys used on mass-produced bike wheels!
 
To add further to the strength of these incredibly light wheels, our rims have non-milled joints that are both internally pinned and welded - another sophisticated process - and  one which results in a tougher rim structure than conventional welding/milling.
This is what we mean by Light, Strong, Affordable, and Attention-to-detail! We've been building wheels for 20 years now - we see our experience and our questing approach as the final key ingredient!
---
Your wheels will be hand built to order in the UK. (current build times are 14-21 days).
---
BUILD VERSIONS (Hub and Spoke Options)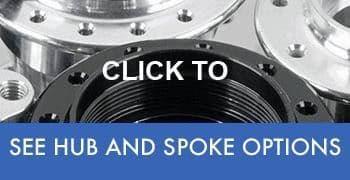 The standard AEROLIGHT build with Italian hubs is a solid entry point. 
These wheels really start to fly with ournSUPERAEROLIGHT build which weighs in at only 1595 grams. Designed around superb Bitex instant-engaging hubs. Light tough and capable of withstanding all season usage. Spokes are PSR 1422  superlight aero spokes. This build is not our lightest but is already way way lighter than any other deep alloys from any other brand ..globally!
If you want to reach the heady heights of the worlds absolute  lightest deep alloy wheelset - then you will need  the SUPERAEROLIGHT++ BUILD or the astonishing Carbon-Ti hub build. The former employs Bitexs lightest hubset and  Sapim cxray spokes (the most aero spoke available - anywhere!) and gets the weight down as low as stunning 1525 grams. (That's for XDR version - add about 40 grams for the SHIMANO version.) The Carbon-Ti employs the best materials engineering to produce a wheelset tipping the scales at around 1500 grams.

Or if you simply need the best of all the above - combined with superlative Swiss engineering - then its got to be our DTSwiss 240 ULTIMATE build. About 30 grams heavier but with hubs that last a lifetime!        
       
       
The use of such wonderful components enables us to produce a true "pro-level" multi-functional aero wheelset, at a reachable price point. Please be aware this is a tough and light wheelset built for UK roads!
---
Offered With Full Warranty
---
This wheel has a very specific place in our range (and in our hearts!). A semi deep section lightweight alloy wheel is the perfect "do-everything-wheelset" for multi-gradient triathlons, time trials and even sportives. Designed to run best with 25mm or 23mm tyres.

WE RECOMMEND CONTI GP5000 CLINCHER TYRES FOR THESE WHEELS.
 
---

TECHNICAL SPECIFICATION
RIM
Nickel strengthened SuperAlloy
BLACK -CLINCHER ONLY 40mm deep circumferential)
FREEHUB FITTING
SHIM/SRAM 7/8/9/10/11/12 or CAMPAG 9/10/11/12 or XDR 11/12
HUB

Ambrosio, Bitex standard, Bitex SL  or DTSwiss hubs AND now Carbon-Ti hubs

BEARINGS
Sealed Cartridge throughout All hub types
SPOKES
PSR AERO SL or Sapim Cxray Aero - Black
NIPPLES
Alpina Bontrager Hex Nyloc Self-locking - black
RIM TAPES
Included
QUICK RELEASE
Not Included

WEIGHT (+/- 25 grams) From




1655 grams AEROLIGHT  BUILD 

1595 grams  SUPERAEROLIGHT BUILD

1525 grams SUPERAEROLIGHT++ BUILD (from)

1570 grams ULTIMATE DT240 EXP BUILD

(weights for XDR  +35 grams SHIM/CAMPAG)

PLEASE NOTE QUOTED WEIGHTS ABOVE ARE LIGHTEST VERSIONS WITH ALLOY NIPPLES - BY DEFAULT WE BUILD WITH TOUGHER BLACK BRASS NIPPLES. Let us know when you order if you want alloy.

Advised Max Rider weights

70kg 20/20 spokes

90kg 20/24 spokes

110kg 24/28 spokes
Reviews
Bought a pair in October on the recommendation of a family member who owns a set of deep carbons for TTs. Superb set of wheels, after nearly 5 months of pretty shocking welsh winter weather, still dead true and roll smoothly. On par with the weight of the stock 20ish mm bontrager's I had on before, and although I can't measure the aero benefit, they certainly feel rather speedy when you're pushing the pace! Fantastic communication throughout the buying process, with Andy recommending the 42SLs and a spec based on my requirements. 10/10 nuff said.
I had Campag Zondas on my 2015 SuperSix but I wanted to get some deep section wheels to see what difference they made. Most of the carbon wheels these days have an external rim width of 25mm plus. The gap between the chainstays on my bike is not big enough to take those wheels. I also wanted alloy rims and the wheels to be light. I saw these after surfing online and I'm really glad I did. I bought the SuperAeroLight option. The first ride I really noticed how smooth the bearings were - wow - what a difference. Always wondered what a decent pair of wheels felt like. I've really noticed that my legs are fresher after longer rides. Fantastic wheels, sooooo smooth! Great service!
Have just been out on my best bike for first time since fitting your 42SL wheels (hence delay with feedback). Well i must say that i was immediately impressed with how taut the bike feels, no flex when climbing and i seem more able to push a higher gear, well pleased! Please find picture of Planet X badged Van Nic pro road, Campag Athena groupset and your brilliant stealth graphic wheels. Many thanks Andy, Retford, Notts
The wheels are excellent and did me proud at the recent World Duathlon Championships. They also look nice on my Felt bike (much better than Ottawa last year). As I'm not at the top end of cycling (just yet!), they are affordable but durable at the same time. My bike times are now getting quicker and one day they hopefully match my run times (which is where my strength is within Duathlon and Triathlon). I'm hoping to go to the World Duathlon Championships in Australia next year, if I can get some sponsorship.
I decided on these a couple of months back after having researched several other wheel brands to upgrade to and decided to go with Kinetic-one on price and value for money. Chatted through what I wanted with Andy who was very helpful and decided on the K1-42SL. Performance wise they are great, giving a noticeable difference straight away, on a regular long ish route of around 50 miles I felt less fatigued and found I put in a quicker time. Rolling resistance is minimal and I found testing the freewheeling next to a couple of mates that I was rolling faster and longer so the aero design really does work. I ordered these in blue for the only reason that my bike is blue and was not overly bothered but must admit they make the bike look pretty stunning and I've had quite a few comments. Finally and importantly the customer service is brilliant. After a few miles one of the spokes was making a noise, phoned them up, wheel was picked up by courier and returned very quickly, a slightly under tensioned spoke being the culprit so full marks for customer service and communication. If you are thinking of buying these wheels I don't think you'll be disappointed!
Took a bit of a punt on these - not having had any kit like this since my racing days back in the day. Seriously impressed with these wheels. Had them a few months and they attract lots of attention and they roll like silk. Rob
I ordered my ultralights over the web, after considerable helpful advice from the folks at K1. I was NOT disappointed. They arrived beautifully packed, and ready to go. I was taking my first ride within minutes and MAN what an upgrade from the stock Fulcrum 5's that came with my bike. They ride much smoother, but tougher, and seem to hold momentum much more easily. I feel like I picked up 1k/hr from them, but more importantly, my daily ride is more engaging and fun. They are simply a pleasure. I also like the fact that they are "different" from the stock upgrades out there - and they look great. Highly recommended.
Coming from stock Alexrimms DA22 to these is a massive transformation to a 2009 GT Series Three. Had these wheels just over 6 months now. K1's spin up nice and easy, holding the pace without complaint. Instantly saw average speed jump by 3-4km/h. Rode nicely along national cycling route 23 in the Isle of Wight which is not all tarmac and they stayed true too. They are certainly up to to a daily ride on British roads. Riden with Michelin Pro3s with Schwable light tubes. Tricky to get on/off the wheel following 2 flats but that is down to the tyre. About to try Conti GP4000s with Conti Race 28 Light tubes. Seem to be a lot easier to get on and off. Highly recommend these wheels. Excellent communication and discussion with Andy regarding other wheelsets in similar price brackets. Wouldn't hesitate to buy another pair of these for race only.
Only had a couple of short rides on the new wheels, but first impressions are very good. They feel and ride much lighter than my Fulcrums and they are stiff with no flex or brake rub when hammering it out of the saddle up the climbs, where the lightness is really noticed. I have also hit a few pot holes ( hard not to around here) and no problems there so they are tough as well. Looking forward to getting a few decent miles in on them. Overall then .....5 stars , excellent value for money and to top it off Andy is a real good bloke and a pleasure to deal with. Mike
I can only add to all the good things said about these wheels. Tremendous.
So much fun and fast These wheels carry speed so well. I noticed the difference between my old wheels (which I really liked) and these on every part of my ride. They faster on the climbs. They carried speed better when I sat up on the flats. Accelerated better. I'm really pleased with the wheels. I got them with the ride to work scheme which was really simple and well explained by Andy. I would have expected to pay £1200 for a set like this. I got the upgraded hubs which was a very good decision. All round very pleased
Have covered over 1000k on the wheels and they are excellent. They roll really good on our crap roads no problems whatsoever. Thanks again.
Susan Brown added another British Triathlon Championship yesterday, winning the Age Group Standard Distance at Leeds, so she now holds the "double". She was racing as usual on her Kinetic One wheels, which as usual were faultless and fast. The picture is the podium from Leeds, please feel free to use if you wish. (see gallery)
I took the plunge and purchased a pair of the lightest K142SL's. Best decision I've made with regards to upgrading my bike. These wheels just keep on running! I've knocked over a minute off a 10 mile TT and have found I'm up with at the front when it comes to the bunch sprint. Even when it comes to climbing they're no slouch. Cheers Andy. Great product.
Got some Kinetic-One K1-42SL SUPERLITE 3 years ago, still going strong, rims still perfectly true, spokes tension
Leave A Review