2024 Kinetic-One K1-42TL AERO" Deep Alloy RIM BRAKE wheelset
You will earn
0 reward points
with this purchase
Sharing is caring

Send this to a friend
INTENDED USE:  This is simply the world's first and only deep-section TUBELESS/Clincher alloy wheelset. 
Sportives, bunch races, time trial and Triathlon (from Sprint to IRONMAN distance.) 
This is our multi-functional alloy aero wheelset. A super tough - super aero - racing and training wheelset that is equally at home on Summer sportives and TT's, but also tough enough for fast winter commutes!
---
Your wheels will be hand built to order in the UK. (current build times are 14-21 days).
---
BUILD VERSIONS (Hub and Spoke Options)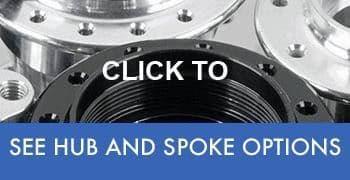 Our entry-level version is far from entry-level! The AEROLIGHT build features superb Italian Ambrosio sealed hubs and class-leading PSR Aero bladed spokes. 

Our superb standard SUPERAEROLIGHT build featuring high-end Bitex hubs, fabulous PSR aero 1422 spokes. 
- Or for the lightest and highest-performance version of these wheels go for the SUPERAEROLIGHT++ build option. With Sapim cxray elliptical aero spokes and the lightest Bitex hubs. Weighs 1740 grams.
---
Handbuilt here in the UK: The 42TLAero is for riders who want all the aero benefits of carbon - but want to stick with a more robust material and also save a significant sum of money at the same time. An enduring best seller ... now with the added benefit of being tubeless ready.
It seems inconceivable to us: There was not a single deep-alloy TUBELESS & CLINCHER READY wheelset available anywhere on the planet... yet the benefits and need for them is so self-evident. So, in keeping with our long experience of innovation in wheel design... we came up with our own wheels. 

Fully clincher and tubeless ready they are 23mm wide externally and 17.5 internally. Fully performance optimised for 23-28mm wide tyres.
Super aero rims complimented by black aero bladed spokes. We offer a range of build options - to suit your budget, your weight and depending whether your focus is on all out aero, or on reducing weight... or on the sheer look of these wheels!

The rims are handmade for us in Northern Italy by craftsmen whom we have worked with for almost 20 years.
 
---
Offered With Full Warranty and professional mechanic support in-house.
---
TECHNICAL SPECIFICATION
RIM
42 mm deep aluminium clincher/tubeless rim
FREEHUB FITTING

SHIM/SRAM 7/8/9/10/11/12

CAMPAGNOLO 9/10/11/12

XDR 11/12 SPEED

HUB

Aerolight: Ambrosio sealed

Superaerolight: BITEX sealed 

Superaerolight++ : Bitex Superlight

BEARINGS
Japanese EZO Double sealed bearing hubs
SPOKES


Aerolight: PSR AERO (20/24)

Superaerolight build: PSR AERO SL (20/24)

Superaerolight++ build: SAPIM CXRAY (20/20)

NIPPLES
Pillar TG hex nipples
RIM TAPES
Included
QUICK RELEASE
Not Included
WEIGHT

AEROLIGHT: 1790 grams

SUPERAEROLIGHT : 1767 grams

SUPERAEROLIGHT++ : 1740 grams

(weights XDR - add 35 grams shimano)

PLEASE NOTE QUOTED WEIGHTS ABOVE ARE LIGHTEST VERSIONS WITH ALLOY NIPPLES - BY DEFAULT WE BUILD WITH TOUGHER BLACK BRASS NIPPLES. Let us know when you order if you want alloy.

SUGGESTED MAX
RIDER WEIGHT

115kg
Reviews
I was looking around for some new rimbrake wheels for my traing bike I use on wet days having had a set of carbon on there its a bit nervy on the decents in the wet so really just wanted to improve the braking performance and decided on the aero 44 alloy wheels. The wheels arrived on time and very impressed with the overall quality and finish. I have done a few spins now and have to say really surprised at how well the wheels roll and handle even in decent cross winds and the stopping is night and day over my mavics in the wet just gives you plenty of confidence. Great product for the price and the decals are a nice touch. Highly recommend these to anyone.
What a difference! Amazing results I wanted to upgrade my wheels and make my racer ride a little more like my single speed, with its 40mm deep wheels. I went for the 42mm aero wheels and can't believe the difference it has made! Top and Average speed is higher, pedalling at speed easier, while bike feels more planted and still up on its toes. I love it. The dark grey on black looks so good against the off white of my bike and the graphics are quite subtle. So well put together and the bearings, oh my god, the wheels just don't stop turning! They are amazing. Many thanks to Andy at kinetic one for such brilliant wheels, and for such speedy service! I ordered the wheels Saturday night, had them on the bike and test ridden by Tuesday tea time, and that includes me having to get home from work Upshot is, I highly recommend these wheels as an upgrade for any bike
Great set of wheels I replaced my standard Scott Syncros RP2.0 and 28mm Schwalbe Durano tyres with Kinetic 42TL aero alloy wheel set with 25mm Hutchinson Fusion 5 tyres and boy what a difference. I went for the lightest build option with titanium skewers which saved approx. 200 to 250 grams from the overall weight. I'm not sure if it's the wheels or the tyres that have made the difference but I can accelerate faster, which is handy when a gap develops going round corners, handles better and I can actually keep up with faster riders. When out on my own I can hold a higher speed than before and can easily cruise a mile or so faster. Highly recommended and you get great service from Andy.
Superb wheelset! I have been riding on Mavic Cosmic Carbone SL's since 2013 which have been faultless until recently. I needed to get hold of deep rim wheels quickly and I didn't have the funds available to match the Mavic costs. A bit of web browsing lead me to to Kinetic-One and to this alloy wheelset , which to be honest I was sceptical about. I read the same reviews you are reading and they were all pretty impressive - could they be that good? I held back though, didn't make the purchase and kept browsing. A few weeks later, my Mavics got worse and I needed new wheels quickly and I comcluded K-1 was my best option to get wheels at an affordable price, alloy which suited my 110kg weight and aero too. Purchase made, a couple of weeks wait for delivery and the big box arrived today. So excited!! Straight out of the box and there I am waving them about amazed at the light weight, really impressive looks and sturdy build and a real sense of "quality". Within half an hour I had my Mavics stripped of rubber which easily went on my new rims. Within the hour I was out on my new wheels and instantly I was noticably quicker - quicker from a standing start, quicker up hills and quicker free-wheeling too. I rode my regular evening 18 miler which I complete 3 times a week at full pelt. Yesterday I was out and finished with an average speed of 19.9mph, frustrating to be 0.1 off the 20 which I haven't reached all year! Today on very tired legs I did the same ride with almost exact weather and got the 20mph bang on. YES! I love the feel of these and I highly recommend them! (I cannot wait to get out on fresher legs to see how much faster I can go!!)
K1-42TL AERO If you are looking on the KINETIC-ONE website and thinking of maybe treating yourself don't wait ! After a recommendation to have a look at what they have to offer I mailed Andy who's knowledge (professional) and advice was brilliant has he guided me through what wheel set would suit me. Once confirmed what I wanted the service given from Andy was brilliant in fact first class.....now delivered and fitted the wheels roll superb and look the business !! Many thanks to Andy and all the team.. Cheers Steve
I had been searching for a while for a set of hoops for my TT bike, but unfortunately Covid 19 struck and the triathlon season has all but gone. So decided to get a new set of training wheels. Spoke to Andy and between us came up with wha I have now.... what can I say....... Amazing! Transformed the feel of my bike and Andy's help was invaluable. Can't wait to get a set of Carbons for my Trinity soon and can't recommend Kinetic 1 enough. Thank you
Great wheels and great service I'm the kind of cyclist who's bike cost less than a single super spendy wheel. So when I wanted to upgrade the stock wheels on my bike my budget was firmly in mind. Kinetic-1 was mentioned on a Facebook group I'm in and thought I'd check them out. The price and specs were right in my budget but I was between 2 models so I emailed Andy about the type of riding I do and with details of my weight etc. He responded quickly with a suggestion and I placed my order. I was kept up to date with how my order was progressing and they arrived within the guide time. The wheels look and feel great and since putting the wheels on my bike I've already beaten most of the Strava PRs I set last year. Would definitely recommend.
I bought a pair last year and absolutely adore them. I use them on my triathlon bike (disc cover on the rear) and they roll brilliantly. The bearings are silky smooth and they pick up/hold speed remarkably. Would 100% recommend to anyone after a wheel upgrade. Customer service from Andy is spot on too
These are my first pair of Kinetic wheels and I don't think they will be the last.My brother recommended Kinetic as an alternative to carbon wheels.I bought these for my winter training bike.My first ride could not have any tougher.We went over to Flanders to ride some of the famous cobbled climbs and roads.They performed really well and I was very impressed with the overall performance.I bought the dark grey so they also look stunning on my all black Ridley. Overall Great value for money.
I Got In touch with Andy form Kinetic-1 who was very helpful, i ordered new wheels and they were delivered very promptly. Over the moon when they arrived & looked just great on the bike. I would definitely recommend people to these guys, Superb wheels with a fantastic friendly service.
Awesome! These wheels fly. First week of riding with them and already hitting PR's all round. At least 2 mins faster on the climbs and wow do they go well on the flats. Steps on the pedals are met with instant smooth acceleration and they just keep on going. I ride with guys on wheels costing 4 times the price and you would not tell the difference. Service from Andy and Kinetic is the best I have ever experienced. Nothing is too much trouble. These are my second set of K1 wheels and I would not hesitate to come back for my third. Good to see my bike on webpage too - desert backdrop!
Bought some of these wheels back in June as a present for my wife . Correspondance with Andy was first class . These wheels look fantastic , and they perform beautifully too . She has managed to get PB''s on nearly every ride this summer ( i keep saying it''s the wheels that deserve the credit and not her !!!) . Can''t recommend these wheels , or Kinetic-One enough .
I bought the K1-42SLs for my Boardman and i am really pleased with them , they look fantastic and roll extremely well . I did have on small issue fitting them but i called KINETIC 1 and the problem ( my fault ) was sorted . Indexing and setting limits with them was easy , even for a novice like me .
The wheels are a significant noticeable improvement, both for the flat-out-all-out-attack of the 10K sprint training, and also for the longer 100K sportive up and down, up and down. The wheels handle like a dream and the do exactly what you'd expect. The hills become easier and the wheels feel like they actually accelerate at about 34Kmh and whisper in your ear "faster, faster, faster"... And the service is exemplary; visiting Andy is a joy and an inspiration to get out there and cycle. His knowledge, advice and assistance is invaluable in making these wheels happen, Always happy to offer sensible and non-biased approach that suits the customer. I heartily recommend Andy, Kinetic, the wheels and the service for anyone who is serious about bikes!
Simply fantastic - as I bought a pair of kinetic-one wheels some years ago and they did me proud so that was sufficient recommendation to try another set of their wheels. Glad i did - I think it would cost at least several hundred pounds more to get a wheelset any better than this.
Andy built me a great set of Aero Wheels. I've used leading wheel brands in the past (some you see in the Pro Peloton) and comparing the amount I spent with Andy vs. my individual performance gain, it's definitely been worth the investment! My speed results/segment results are much better than expected and in addition to this: the service from Andy is fantastic, he's a very experienced and talented wheel builder. The breaking surface on the Deep Section Aero Alloy Rims is very very good and they hold speed ~38-40kph in the bunch as if I'm riding a motor bike! I highly recommend Kinetic One. Ben - London Phoenix CC
I have a set of your aero wheels, brilliant performance and super reliable. K1 42TL are spot on! Highly recommended!
Got my 42 TL Aero wheels a couple of weeks ago.. On distances between 12 and 50 miles the average has gone up between 1 and 2 mph!!.. Love them
Leave A Review