2024 Kinetic-One K1-42ST Deep Alloy RIM BRAKE Wheelset (up to 150kg)
You will earn
0 reward points
with this purchase
Sharing is caring

Send this to a friend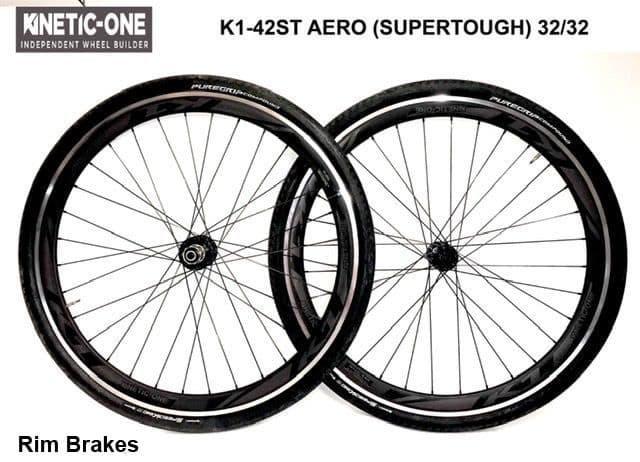 SCROLL ACROSS TO SEE OUR STUNNING NEW DECAL OPTIONS
Rated to 150kg - Quite simply... The worlds first and only deep-section Tubeless/clincher alloy wheelset aimed at bigger guys or fast commuting / all season riding.
---
INTENDED USE: Sportives, bunch races, time trial and Triathlon (from Sprint to IRONMAN distance.) This is our multi-functional custom built ALLOY aero wheelset. This is a super tough - super aero racing and training wheelset that is equally at home on Summer sportives and TT's, but also tough enough for fast winter commutes!
It's for riders who want all the aero benefits of carbon - but want to stick with a more robust material and also save a significant sum of money at the same time. Not the lightest wheels we do of course but an enduring best seller ... now with the added benefit of being tubeless ready.
Super aero rims complimented by superb black spokes and hubs. We offer a range of build options - to suit your budget, your weight and depending whether your focus is on all out aero, or on reducing weight... or on the sheer look of these wheels! 
---
Your wheels will be hand built to order in the UK. (current build times are 14-21 days).
---
BUILD VERSIONS (Hub and Spoke Options)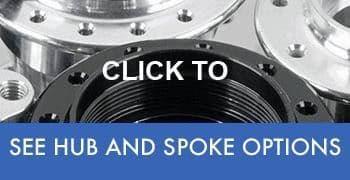 Our standard go to set rated to 125kg riders is our superb AEROLIGHT, performance build with excellent Italian Ambrosio sealed hubs, PSR aero spokes.
Our mid-weight build is the the fabulous AEROFLOW  option - with PSR AERO spokes and superb MICHE PRIMATO hubs, the lowest drag hubs available anywhere - and prodigiously strong too! This build is rated up to a maximum 135kg
Or for really big guys we have the AEROTOUGH build. Using Sapim CXRAY spokes and the amazing Bitex BX103 hubs - this is a true high performance/reliability wheelset. (The BX103 rear hub uses double the number of hub axle bearings of normal hubs - 6 in fact - spreading the load incredibly effectively.) Rated to a maximum 150kg rider loads.
---
It seems inconceivable to us: There was not a single deep-alloy TUBELESS & CLINCHER READY wheelset available anywhere on the planet... yet the benefits and need for them is so self-evident. So, in keeping with our long experience of innovation in wheel design... we came up with our own wheels.

Fully clincher and tubeless ready they are 23mm wide externally and 17.5 internally. Fully performance optimised for 23-28mm wide tyres.
The rims are handmade for us in Northern Italy by craftsmen who weve worked with for almost 20 years.
---
Offered With Full Warranty and professional mechanic support in-house.
---
TECHNICAL SPECIFICATION
RIM

42 mm deep aluminium clincher/tubeless rim

FREEHUB FITTING

SHIM/SRAM 7/8/9/10/11/12 or CAMPAG 9/10/11/12  OR XDR 11/22

HUB

AEROLIGHT BUILD: AMBROSIO 

AEROFLOW BUILD: MICHE PRIMATO

AEROTOUGH BUILD: BITEX BX103

BEARINGS

Japanese EZO Double sealed bearing hubs

SPOKES

AEROLIGHT/AEROFLOW version: PSR AERO

AEROTOUGH version: SAPIM CXRAY

(spoke numbers vary according to build)

NIPPLES

Brass - Ni coated

RIM TAPES

Included

QUICK RELEASE

Not Included

WEIGHTS FROM

AEROLIGHT version:  1830 grams approx

AEROFLOW version : 1940 grams approx

AEROTOUGH version: 2085 grams approx

SUGGESTED MAX

RIDER WEIGHT

125kg AEROLIGHT 

135kg  AEROFLOW

150kg AEROTOUGH
Reviews
Hey Andy, just back from the trip and the 42 toughs withstood the Paris - Roubaix and Flanders cobbles amazingly. Happy if you want to use these words for your website! Regards Geoff Shaw (Staines Surrey)
Very nice wheels look great and strong can't go wrong with buying a set of these I'm even thinking of getting another set for my other bike.
Kinetic one's Amazing deep section aluminium wheels It hardly ever happens that an Amazing product comes with Amazing service by genuinely decent people. This isn't just a product review as that would give enough credit to the service that you get. The product is fantastic, I'm a heavy rider and went through 2 standard sets of wheels in my first year of cycling. I stumbled across kinetic one and was contacted by the genius behind the product Andy. He took my concerns and built me a set of wheels to a spec that are just about bomb proof. When looking at prices it's easy to think that's too good to be true but stop there! I opened the box and they looked WOW, I fitted them to the bike and the bike looked extra WOW, I rode them the first time and they rolled so smooth with a fantastic free hub sound. They have put up with a 125kg rider who quite often rides with a sadistic friend who rides virtually anywhere. Now onto the service. Andy took my concerns with other wheels, details of my size and riding style and made the recommendation. I placed the order and was given an estimated delivery time. Did they arrive on time? No they were 5 days early which made it all even better, I had them on the bike then straight on the road. Andy also offers servicing for wheels he has built which is very open in what's offered at a decent price. Finally I have a set of wheels I wanted to store from another bike and Andy kindly supplied for a reasonable fee solid packing boxes to keep the wheels safe. I can not recommend Andy and his team high enough they do business and in a nice and genuine but professional way possible. Thanks very much for everything
Leave A Review