2024 Kinetic-One K1-40FW ULTIMATE Carbon RIM BRAKE Wheelset
You will earn
0 reward points
with this purchase
Sharing is caring

Send this to a friend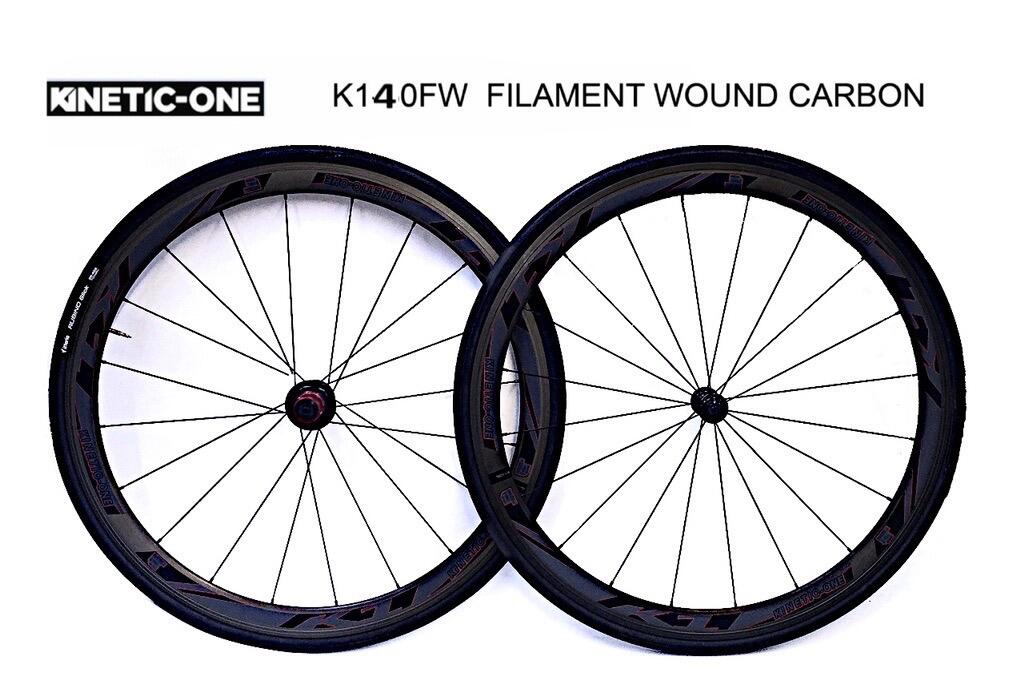 SCROLL ACROSS TO SEE DECAL OPTIONS
---
INTENDED USE: Combining superb aerodynamic gains with superb build quality, and achieving weights as low as 1285 grams - This is the latest version of our Premium Ultimate full carbon 40mm deep Sportive/Triathlon/TT aero wheelset. 
OUR WHEELS ARE STRONG: RATED TO 120kg.
Aimed at riders who want all the fantastic benefits of quality carbon without going too deep. This maybe because you are a nervous descender worried about crosswinds - or simply that you value weight-saving as much as aero gains.
Incorporating the latest carbon FILAMENT WOUND (FW) technology to create a fantastic ride performance, with superb braking, cushioning, cross-wind handling and heat dissipation.
This wheelset is ideal for Road, Sportives and longer distance and hillier triathlon and time trial courses.  They are "2-Way Fit", Meaning they are designed for both clincher tyres and the new generation of tubeless tyres.
---
Your wheels will be hand built to order in the UK. (current build times are 14-21 days).
---
BUILD VERSIONS (Hub and Spoke Options)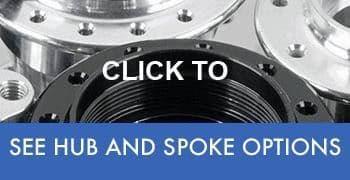 Our standard  SUPERAEROLIGHT build uses the superb Bitex hubs from Taiwan (the world's longest established hub maker!). Both options laced with Pillars excel PSR Aero spokes.
If you want the lightest possible builds then our 1305 Grams SUPERAEROLIGHT++ build is spec'd with the wonderfully aero and light CXray spokes/Bitex Superlight hubs....  And these are tough rims rated to 120kg riders.
Or if you must have the best we have our DT SWISS and Carbon-Ti versions! The Carbon-Ti build comes in at a stunning 1285 Grams 
All versions built 20/24 as standard. Please let us know if you would like us to build 20/20 or 24/24 spokes instead.
---
 Our premium full-carbon wheelset utilises patented filament-wound, robotic-built, ultra-high temperature K1-40FW rims.

Sounds fancy: Filament winding technology is an automated method which has revolutionised rim consistency in the manufacture of full carbon wheels. Made from single carbon filaments - the manufacturing process enables precise control of every step - resulting in the roundest, strongest, lightest wheel combinations.

This level of precision and care extends throughout the entire quality control process -  with each and every rim X-Rayed for structural uniformity and compliance.

Not only does this make for stronger, longer lasting wheels - but also the nature of the "winding process"  facilitates another new technology that massively increases braking capability - especially at high temperatures.  

This new model is also lighter than last years. Again this is due to the precise control that filament winding enables. 
The filament winding process enables the injection of a patented ultra heat resistant resin - directly into the carbon filaments - whilst the rim is built. This means the rim's braking surface is fully impregnated with resin during manufacture - rather than a braking surface being added to the surface of the rim post-production.

This makes for better braking - especially on longer descents. These rims have their braking performance tested up to 250 degrees celcius.  This is 20 degrees higher than our previous rims - and as high as any top-end rims on the market.
NOTE: Whilst rim tech has leaped forward in recent years - there are still some major things users of carbon wheels need to know! Please do read our page on safe braking and care for your carbon wheels HERE

Handbuilt here in the UK. We combine traditional wheel-building techniques with cutting edge technology. And the world of carbon wheel-tech moves endlessly forward! Exciting times!
YOU CAN RUN THESE WHEELS WITH CLINCHERS OR WITH TUBELESS TYRES: IF YOU WANT US TO SUPPLY AND FIT NEW GENERATION TUBELESS  TYRES WE CAN DO THIS FOR YOU  (Includes tyres/tapes/sealant/valves and extenders - so that you're ready to ride them straight out of the box. 
Ideal for tyres from 23mm-30mm.

The rim width debate will continue to rage and rage. What with rims now avail able from 19 mm right through to 28mm wide. We've decided to go straight down the middle and our rims are Significantly wider than old-school rims but not crazy wide. We think that's the best place to be! 
---
Offered With Full Warranty 
---

TECHNICAL SPECIFICATION
RIM


Full Carbon Clincher  700 C - Filament wound with patented Ultra-High Temp Resin impregnated braking surface. Torayca Higher Modulus Carbon (Japan)

38.8mm vertical depth, U-shaped, 25.5mm wide,  Full carbon Clincher rim - TUBELESS COMPATIBLE.  UD MATTE CARBON
 

FREEHUB FITTING

SHIM/SRAM 7/8/9/10/11/12 or  CAMPAG 9/10/11/12 or XDR 11/12

HUB

Ambrosio, Bitex, Bitex SL, DT350 or DT240 hubs. And now Carbon-Ti hubs

BEARINGS

Sealed Cartridge throughout All hub types

SPOKE OPTIONS

PSR AERO  or Sapim CXRay -  Ultra light-ultra aero

NIPPLES

Alpina Blu power Nyloc Self-locking (the best!)

RIM TAPES

Included

QUICK RELEASE

Included

Carbon specific brake pads

Included

WEIGHT 20/20

(+/- 20 grams)

1380 GRAMS PER PAIR SUPERAEROLIGHT VERSION

1330 GRAMS PER PAIR  DT240 EXP ULTIMATE VERSION

1305 GRAMS PER PAIR  SUPERAEROLIGHT++ VERSION

 1285  GRAMS PER PAIR Carbon-Ti VERSION



(weights XDR: add 30 grams shim/sram)

PLEASE NOTE QUOTED WEIGHTS ABOVE ARE LIGHTEST VERSIONS WITH ALLOY NIPPLES - BY DEFAULT WE BUILD WITH TOUGHER BLACK BRASS NIPPLES. Let us know when you order if you want alloy.




SUGGESTED MAX RIDER 

120kg
Reviews
Great service and super wheel set. Andy overall customer service is a 10/10 really helpful and offers great advice.
I ordered a set of these wheels, with the help of Andy. I ride with carbon MTB wheels, however never took the step for carbon for my road bike. I was looking at some expensive fulcrum wheels at the time, which were more pricey and had a silent hub. I explained to Andy what I wanted in regards to the wheels, a noisy hub, lightweight, deeper rims and the places I like to ride and he advised me on this set of wheels. He spent time back and fourth on email with me helping me find the right set and was more than helpful explaining why certain parts are more suited to me than others. I have finally had the chance to ride with these wheels, they look amazing, feel well built and of a high quality and ride brilliantly - and there lighter which is all we really care about... Massive thanks to Andy - delivered and made really quick and superb wheels. When i next need carbon wheels, i will be back!
Not everyone who likes great equipment and an aero advantage can average in the 20+ mph range ! Age, hills and wind can all mean that half your ride can be under 20 and that's where these wheels don't give the feeling of a penalty below 17 or 18 mph like my Chinese wheels definitely do! My campag shimal's are good, £800 pounds good but the aero is not there for when the roads level out! I actually burned my legs today as I rode the first 20 miles giving it a big effort (and with big grins on my face) I paid a bit for that coming back as there was all the climbing and a headwind . So I was well under 20 for periods and the wheels still performed really well. Talking of wind, I know you said that there weren't big differences across rims for a given depth but other than the "suck" from a couple of big trucks I would say these FW40's behave very well in the wind. Hope this content is useful.
Just wanted to pass on more thanks to you! I completed the iron distance Outlaw triathlon in the most horrific conditions! I saw plenty of people blown clean off their bikes, as well as many more blown off course. I however was very happy with my medium section wheelset! Just as you advised and predicted, they were a perfect compromise for when you only have one wheelset. No complaints whatsoever from me. As and when I'm in need of another wheelset, I won't be looking anywhere else.
I first contacted Andy with may questions about his wheels and it wasn't long before he put my mind at rest. I was so impressed with the amount of knowledge he had I didn't hesitate to purchase a pair of carbon wheels. The wheels are just great and a big improvment over my fulcrum racing 3's I had. They are stiff with no flex espeically up the hills. They roll fantastically and what surprised me the most was how much better they were up the hills too. The service is second to none and Andy was always there if I had anything to ask. Cracking wheels considering the price and great looking to. Oh and very light too!!!
Leave A Review