2024 Kinetic-One K1-33SL ULTIMATE Alloy RIM BRAKE Wheelset
You will earn
0 reward points
with this purchase
Sharing is caring

Send this to a friend
SCROLL ACROSS TO SEE OUR STUNNING NEW DECAL OPTIONS
INTENDED USE:  From 1435 grams for a Full Aero alloy wheelset.
The latest super-fast version of our best selling, seriously light, hand built, sportive/road/climber wheelset.  Offered with a choice of spokes and hubs with a specific focus on combining high strength/durability with low weight and excellent aerodynamics.
Tough enough for the hilliest and roughest of Sportives, Fast-accelerating enough for the busiest of bunch races and aero enough to ensure that you gain every possible watt of drag reduction.


Beautifully finished, very light, superbly strong. Our 33SL ultimate rims are made from the latest generation of Nickel strengthened aerospace grade superalloys and are packed full of the latest rim tech. 
Superalloys require extremely sophisticated manufacturing processes and highly skilled workmanship. The result is a metal rim with strength similar to Titanium, weight similar to carbon, and responsiveness akin to Steel. You won't find Superalloys on standard factory wheels!
---
Your wheels will be hand built to order in the UK. (current build times are 14-21 days).
---
BUILD VERSIONS (Hub and Spoke Options)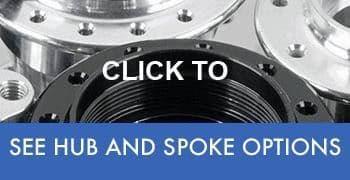 We offer a choice of  models to make your wheels even lighter, more aero and tougher. These wheels are superbly specified.

SUPERAEROLIGHT MODEL: FROM ONLY 1495 GRAMS with PSR 1422 Aero spokes and superb Bitex All-season lightweight hubs.
And our lightest and most aero build. The SUPERAEROLIGHT++ which adds cxray spokes and Bitex lightest hubs and weighs FROM ONLY 1435 GRAMS. 

Or for the ultimate in durability and exquisite engineering our DTSWISS 240 build is the one to go for.
Of if you simply must have the best of everything .. it can only be the staggering Carbon-Ti version! 1430 GRAMS. 
---

Features a superb new 24mm wider rim profile compatible with both tubeless and clincher tyres. Slightly wider rims are the future of road wheels. They enable seamless tyre interfaces for max aero gain, they allow for wider tyres for shorter 'contact patch' and less rolling resistance. And to top it all - they are tremendously comfortable - easing the lower back in the final miles of those long long rides. TUBELESS & CLINCHER compatible. 
They will take tyres from 23-40mm width!
---
Offered With Full Warranty and professional mechanic support in-house.
---
We recommend the new Schwalbe Pro One  tubeless tyres or for pure speed the Continental GP5000 Clincher tyres. 
TECHNICAL SPECIFICATION
RIM

Nickel strengthened superalloy. Tubeless and Clincher compatible
33mm deep (circumferential)

FREEHUB FITTING

SHIM/SRAM 7/8/9/10/11/12 or CAMPAG 9/10/11/12 or XDR11/12

HUB

 Ambrosio, Bitex , Bitex SL, DT 350, DT 240 or NEW Carbon-Ti




BEARINGS

Sealed Cartridge throughout 

SPOKES

PSR AERO Aero or the ultimate … Sapim CXRAY

NIPPLES

Alpina Blu power Nyloc Self-locking (the best!)

RIM TAPES

Included

QUICK RELEASE

not Included

WEIGHT

20/20 spokes

Aerolight: 1555 grams

SuperAerolight:1495 grams

SuperAerolight++: 1435 grams

DT240 EXP: 1470 grams

Carbon Ti: 1430 grams

(weights for XDR. +35 grams shim/sram)

PLEASE NOTE QUOTED WEIGHTS ABOVE ARE LIGHTEST VERSIONS WITH ALLOY NIPPLES - BY DEFAULT WE BUILD WITH TOUGHER BLACK BRASS NIPPLES. Let us know when you order if you want alloy.





Reviews
Just retired my aero 1's, honestly the best set of wheels I've ever bought, they've done me ten years of glorious service, all weather's, my fluctuating weight, they've been the dogs danglers.
Lovely light pair of wheels. Good enough to race on yet the price of a training wheel. Very pleased with these.
I was keen to bling up my bike and was very, very happy with my Zondas and had no issues with them. All my mates have big brand carbon wheels and they all look amazing. I search high and low for the combo of lightweight, strong and a little deeper rim. I decided to go for these babies and man was I right! I had a brief chat with Andy who was very helpful and then pressed the "buy" button. They were expertly packaged and they look the mutts nuts! On my first ride I decided to take it easy in order to avoid the placebo effect. It was one of my regular short, hilly routes (27 miles, 2100 ft climbing). I immediately noticed how well they roll, both on the flat but especially down hill, I was doing double takes at my speed! I finished the route in a time and speed I have only ever done around 4 times and that's when I'm ultra fit. I did a 45 mile ride yesterday and averaged just under 21 mph, they make a massive difference. If Red Bull gives you wings then these wheels give you turbo rocket jets!! Buy with confidence!! :-)
Excellent wheels and the decals really set them off well on my other half's Giant TCR. They give the bike that rather nice hmm as they pass
Out on my new wheels at the weekend, and they were everything I expected them to be! Fantastic price, the best customer service I've experienced in a long time, and a really high quality product, delivered in record time. What more can I say, except a great big thank you! cheers mairi anne.
I just wanted to say thank you for all your help and advice, and for building me such a great set of wheels. They are so smooth to ride and roll up to speed really quickly. I swapped out the summer lightweight tyres for some more robust 25's for our recent JOGLE trip and even on the rough Scottish roads the wheels behaved impeccably.
Spot on set of wheels. I use them in sprint tri''s right through to century sportives and they really feel like the right wheels for every job. you never feel you''re losing out. Again i guess that''s the aero and lightweight thing! Tough as old boots. i''ve given them a right lamping on our very knackered roads.
Brought these last year but not had them on the bike over winter. Have now done around 300 miles and have to say they are fantastic(which is why they are now on my new bike)for the price and customer service you can't go wrong. 100% reccomend these wheels to anyone.
Service = excellent Delivery = well packaged and when stated The product to look at = wheels look the business! To use = admittedly the previous wheels were bog standard but even still the difference was ammence! More speed everywhere, especially on climbs. Avg speed has increased by 3mph! Went from mid table in competitions on the bike leg to now getting into the top 10 percent. With the old wheels I struggled to roll past 60 mile rides and now I've done 100+ ones. With the exception of my bike (which I won't be sending a pic of as although I love it, looking at your gallery, I would feel bad if I saw a pic of mine!) the single best bit of kit I've brought to improve my tri performance and all round biking satisfaction!
My Sunday best wheels - never let me down - 8 sportives in the last year and almost most as many training miles as i intended to do. Strong too
The wheels top the build off to be honest. Quote me in any review... "They come up to speed and hold pace superbly, feel controlled in crosswinds and I love their light weight on climbs. They won't be the last pair of Kinetic wheels I'll buy!"
I ride lots of sportives and keep being told that my heavy old shimano wheels are not doing me or my nice bike justice. Having decided to upgrade I was very diligent in doing my homework. I came across this company on Ebay and must admit it was the price that grabbed my attention and i was of course a little apprehensive as I'd not heard of them before (and you do worry a bit about ebay still!). I did ask several questions before purchasing and got very full and repaid responses - and quite a bit of guidance to help me choose from their many - too many? - wheel choices. I am over the moon with my purchase and I have to admit that everyone who nagged me to upgrade my wheels was indeed correct. I love them and would recommend them to everyone.
Bought these as my brother has 2 sets of their (cheaper) wheels (I had to have better ones than he's got of course!) These are simply lovely and i was so pleased when i saw them - and then totally in love with them when i rode them. I've had them about 6 weeks now and they just fly. I'm quite heavy but its like the wheels don't know this! I've never gone up hills so fast. And on the down hills they feel strong and tight - reassuring.
I'm 73 years old and I have done 12,000 miles on my Kinetic alloys. They make my Giant carbon road bike look like a million dollars and they ride great too! On facebook Jan 2022 - wheels purchased 2012
Ride Across America using Kinetic1 K1-33SL wheels: 2300 miles in only another 2000 to go! Highest point on the route.
Leave A Review