£400 OFF Clearance: 2023 Kinetic-One K1-50UC Carbon RIM BRAKE wheelset
You will earn
0 reward points
with this purchase
Sharing is caring

Send this to a friend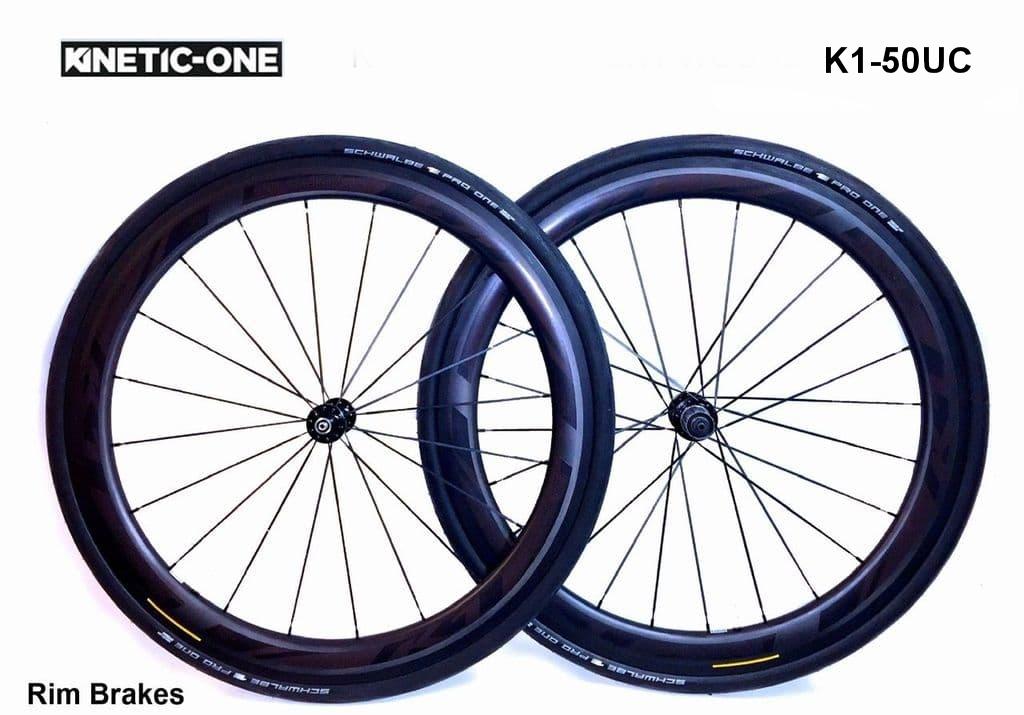 SCROLL ACROSS TO SEE DECAL OPTIONS
INTENDED USE: Our "Do Everything" carbon RIM BRAKE wheelset. At 50mm deep and with weights as low as 1495 grams - This wheelset is ideal for Time Trials, Triathlons, and also spot-on for sportives, bunch-racing, and general road work:  marrying maximum performance and maximum practicality.
Your wheels will be hand built in the UK. (They will ship within 14-21 days of your order).
---
BUILD VERSIONS (Hub and Spoke Options)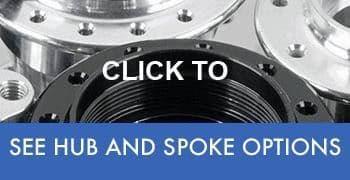 Now in its sixth year of evolution - The 50UC continues to be one of the most popular wheelsets we produce and is an ideal upgrade for athletes seeking quality British handbuilt wheels on a sensible budget.

- The standard AEROLIGHT build features superb Italian Ambrosio, lightweight and resilient hubs and  superlative PSR aero spokes. 1590 grams.

- If you go for the SUPERAEROLIGHT build at 1495 gram then you really are creating a wheelset that is superbly aero and extremely light too equipped with Bitex hubs and Sapim CX aero spokes - as well as emplying superbly durable 'All Season' components.
---
Aimed at riders who prefer an ultra modern rim profile - critically without going too wide to cause frame clearance issues! The handling characteristics and strength of modern U rims is superb - even in pretty serious crosswinds - especially when compared to the V-rims of only a few years ago.

Ar 25mm wide, it is optimised for more modern bikes and is ideal for tyres from 23mm to 40mm and beyond. Please make sure your frame can take this width rim if you go for this option - all modern bikes can but bikes over 10 years old we'd advise checking first. Contact us if you're not sure... we do like to help our customers get it right first time.

Perfect for running tyres at lower pressure, whether you choose clincher or TUBELESS tyre setup!  And of course .......... far more aerodynamic and faster rolling than traditional hoops! 

In terms of rim width we think we've really hit the sweet spot. We carefully explored all of the many possible widths that aero wheels are being developed in. We developed and continually honed our own testing protocols to this effect - and critically we looked at a whole raft of practical "real-world" issues too that many rim makers simply overlook.



---
NOTE:
The 40/50UC wheelsets are ideal for UK roads and descents in all but the hottest weathers. If you are intending to ride/race very long descents in hot weathers (such as alpine summer sportives) or just want a more familiar braking feel - you may want to look at our full-carbon filament wound wheels.. and please do read our page on safe braking and care for your carbon wheels HERE
---
TECHNICAL SPECIFICATION
RIM

700c 50mm U-shaped, 25mm wide,  

Full Carbon Clincher rim - TUBELESS COMPATIBLE.  
UD MATTE TORAYCA CARBON (Japan)

FREEHUB FITTING
SHIM/SRAM 7/8/9/10/11/12 or  CAMPAG 9/10/11/12 or XDR 11/12
HUB
Italian sealed Ambrosio hubs, or Bitex - hubs.
BEARINGS
Sealed Cartridge throughout All hub types
SPOKE OPTION
PSR  Bladed or Sapim CX DELTA  Aero  -  Ultra light/ultra aero. 
NIPPLES
Alpina Blu power Nyloc Self-locking (the best!)
RIM TAPES
Included
QUICK RELEASE
Not Included
Carbon specific brake pads
Included

WEIGHT

(+/- 20 grams)

1590 GRAMS PER PAIR  AEROLIGHT VERSION

1495 GRAMS PER PAIR  SUPERAEROLIGHT VERSION

(weights XDR add 35 grams Shimano)

PLEASE NOTE QUOTED WEIGHTS ABOVE ARE LIGHTEST VERSIONS WITH ALLOY NIPPLES - BY DEFAULT WE BUILD WITH TOUGHER BLACK BRASS NIPPLES. Let us know when you order if you want alloy.

SUGGESTED MAX RIDER
110kg
Reviews
I carried out a lot of research before deciding to purchase the K155UC carbon clinchers wheels with 28mm wide tyres. I decided to go for lighter Sapim CRray on Bitex hubs, so they would be lighter than my existing wheel set. I have found a marked increase in speed on the flat using the same effort / power & down hill speed has increased also. Really like how they look. So all in all I'm very happy with my purchase at a very competitive price & would highly recommend these wheels to others.
I do love these wheels. It did take some serious soul-searching before i finally hit the button and went for wider rims. (I used to race on 16mm rims back in olden-times!) I did have a few problems with setup as My Tektro brake calipers could not really handle the width of the rim. As soon as I put some Shimano brakes on all fine and I have not looked back - 28c tyres are so comfortable too. Brave new world!
I bought these on recommendation from a friend. I've nothing to compare them with as they are my first and only (ever i suspect) pair of carbon wheels. I do know they make me go faster and make my bike look very nice. Being able to choose the finish colour is a very nice touch. Thank you.
I totally love these wheels - full stop. I'm 75Kg and have done ~1000 miles on terrible (Wilts/Glou) roads and they are still perfectly true. They must have been properly pre-stressed because I heard not a single spokey ping when I first used them (which is a first for me). Of course they are stiff and light but, considering their deep profile, I was very pleasantly surprised by how comfortable they are. This is very apparent +4hrs! I went tubeless with Schwalbe pro one - set up was fairly painless. They are definitely faster too :). Another surprise is braking - it is amazing how much better the tech is than in the '90s when I rode some full carbon Corima wheels and nearly killed myself in the process. With the supplied pads, braking is... simply not an issue - in the dry, there is a faint squeal but definitely not an annoying one. For me, they're worth every penny and if I were to break them and require another set of wheels then, I would definitely be back. Thanks!
I love the wheels. They are great value for money and after getting to stick 60 miles into them over the weekend they are exactly what I was looking for. Aerodynamic enough to cut through strong winds and light and stiff enough to glide up the Welsh hills and respond when I put the hammer down. Brilliant set of wheels.
Lovely self assured wheels that roll brilliantly
I decided on the K1 50s and the intro offer was really good value. The wheels perform brilliantly. Really smooth, stuff and cornering feels great. After a couple of weeks I found one of the spoke nipples was loose. I emailed Kinetic one and they had the wheel picked up quickly. Few days later it was back with me and all sorted. Communicstion was great, and I'd go as far as saying their customer service was just as good as their wheels. I would recommend these wheels to anyone who wants great performance, great looks and a fantastic price. Very very happy.
Beautiful wheels! Understated elegance and added speed. What's not to love!
Quick no hassle friendly service.Arrived on time and looked great. And most importantly they made me go faster !! Very happy and would recommend especially if your on a budget . Happy days:))
just returned from doing the cat in Cheshire ,my first decent distance with my new wheels absolutely brilliant lovely smooth ride and the company great to deal with.
Having previously bought a Kinetic-one bike it seemed a logical upgrade to go for these wheels. (They were about half the price of the Reynolds wheels they also do and I wasn''t sure I''d notice the difference to be honest - so i thought i''d save myself almost a grand and buy these!) They are Superfast wheels and very strong
A friend put me onto this brand and I plumped for their carbon wheels after several useful email exchanges. My wheels are now a year old and I am very pleased with them. Deservedly 5***** in my opinion.
Very happy with your wheels, great value and a pleasure to ride. I have done about 17k miles on them. Several trips to Mallorca and a trip to Calpe. Never sent you any photos for your gallery sorry, could do if you want a couple? Many thanks, Kevin Young
Leave A Review