2024 Kinetic-One K1-65/90FW ULTIMATE RIM BRAKE Carbon Wheelset
You will earn
0 reward points
with this purchase
Sharing is caring

Send this to a friend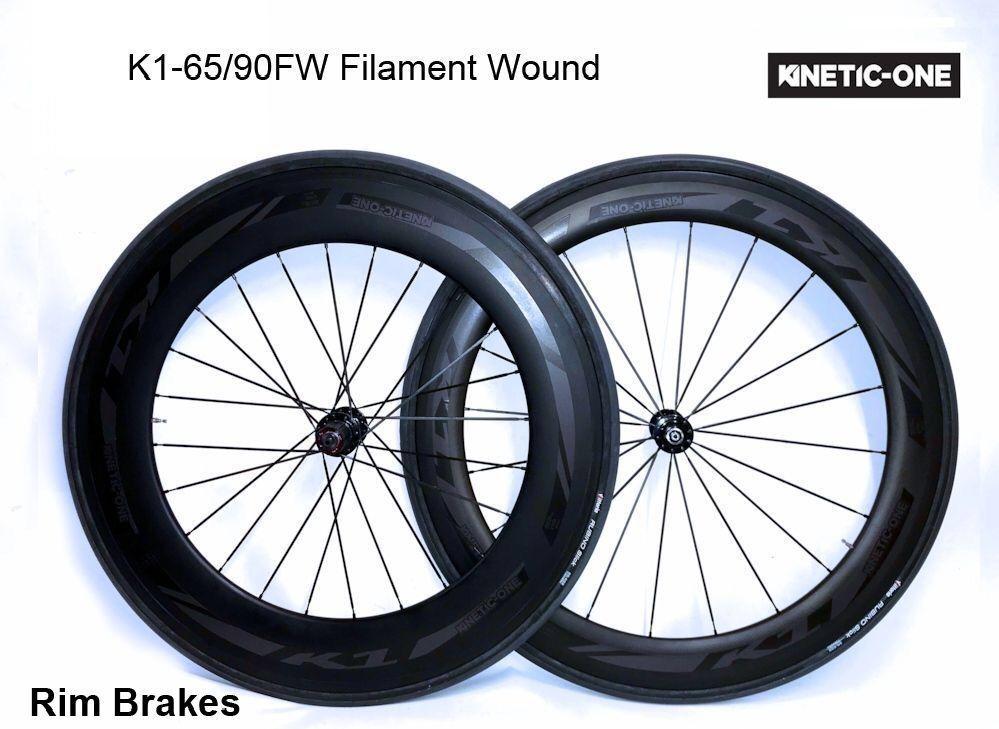 SCROLL ACROSS TO SEE DECAL OPTIONS
INTENDED USE: This wheelset is ideal for both shorter and longer Time Trials and Triathlons. Where speed and aerodynamics and WEIGHT SAVING are king. Also fab for road riding on calmer days!
OUR WHEELS ARE STRONG: RATED TO 120kg
---
Weighing in at as little as 1675 grams for a 25.5mm wide, tubeless/clincher, super deep aero wheelset makes them pretty special we feel.
 
This is the brand new, lighter, slightly wider; Fully updated with the latest carbon FILAMENT WOUND (FW) technology to create fantastic braking and ride performance. Fully clincher/tubeless ready we hope youll agree that this stunning wheelset has it all.
 
The 65/90FW  deep wheelset is superbly aero, beautifully balanced, crosswind compliant, and reassuringly well constructed from top end Filament Wound carbon. 
---
Your wheels will be hand built to order in the UK. (current build times are 14-21 days.
---
BUILD VERSIONS (Hub and Spoke Options)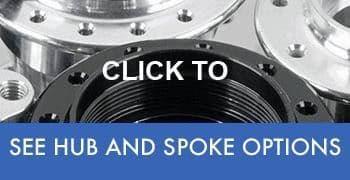 Our standard SUPERAEROLIGHT build uses the superb Bitex hubs from Taiwan (the world's longest established hub maker!). Both options laced with Pillars excel PSR Aero spokes.
For the lightest builds go for the SUPERAEROLIGHTt++ version.
For the ultimate in engineering brilliance alternatively go for DT Swiss 240 version!
---


The introduction of brand new filament-wound fully robotic-built ultra-high temperature tech has revolutionised the production of carbon rims.

Sounds fancy: Filament winding technology is an automated method which has revolutionised rim consistency in the manufacture of full carbon wheels. Made from single carbon filaments - the manufacturing process enables precise control of every step - resulting in the roundest, strongest, lightest wheel combinations.

This level of precision and care extends throughout the entire quality control process -  with each and every rim X-Rayed for structural uniformity and compliance.

Not only does this make for stronger, longer lasting wheels - but also the nature of the "winding process"  facilitates another new technology that massively increases braking capability - especially at high temperatures.  

The filament winding process enables the injection of a patented ultra heat resistant resin - directly into the carbon filaments - whilst the rim is built. This means the rim's braking surface is fully impregnated with resin during manufacture - rather than a braking surface being added to the surface of the rim post-production.

This makes for better braking - especially on longer descents. Our FW rims have their braking performance tested up to 230 degrees celcius.  This is 20 degrees higher than our previous rims - and as high as any top end rims available.

YOU CAN RUN THESE WHEELS WITH CLINCHERS OR WITH TUBELESS TYRES: IF YOU WANT US TO SUPPLY AND FIT NEW TYRES WE CAN DO THIS FOR YOU - so that you're ready to ride them straight out of the box!
The 65mm semi-toroidal u-shaped front wheel is both superbly aerodynamic and extremely light. (this is the advantage that full carbon offers) The rim shape gives it superb cross-wind handling characteristics too.
This is coupled with our ultra-deep rear 90mm deep rear - to minimise drag and give you every watt of power - and at superbly low weight.
The 25.5mm wide 65/90FW's 's are built around our modern "semi U" shaped structural carbon semi-toroidal aero rim. designed to run best with 23-30mm wide tyres.  
The rim is designed to cut through the air going forward, whilst maintaining a superb lateral integrity to cross-winds across a full range of wind "yaw" angles.  
In terms of rim width we think we've really hit the sweet spot at just under 26mm mm wide. We carefully explored all of the many possible widths that aero wheels are being developed in. We developed and continually honed our own testing protocols to this effect - and critically we looked at a whole raft of practical issues too that many rim makers simply overlook. For example frame spacing: Yes its possible to go wider but at what point do wheels begin to compromise the frame. The last thing you want is to find that your carbon wheels rub your frame the moment you get out of the saddle! 25.5mm wide is in our view the best blend of performance and practical usability in our experience.
---
Offered With Full Warranty and professional mechanic support in-house. 
---





TECHNICAL SPECIFICATION
RIM

front u-shaped 70mm circumferential 65mm vertical
rear semi u-shaped 95m circumferential/ 90mm vertical

Filament Wound with ultra high temperture resin.

HIGHER MODULUS TORAYCA CARBON (Japan)

FREEHUB FITTING
SHIM/SRAM 7/8/9/10/11/12 or  CAMPAG 9/10/11/12 or XDR 11/12
HUB
Ambrosio, Bitex,Bitex SL, or DTSWISS 240 hubs
BEARINGS
Sealed Cartridge throughout All hub types
SPOKES
20/24 spoke combinations  - PSR Aero or SAPIM CXRAY
NIPPLES
Alpina Blu power Nyloc Self-locking (the best!)
RIM TAPES
Included
QUICK RELEASE
Included
CARBON BRAKE BLOCKS
Included

WEIGHT

1690 GRAMS PER PAIR  SUPERAEROLIGHT configuration

1660  GRAMS PER PAIR  SUPERAEROLIGHT++ configuration

1710 GRAMS PER PAIR DT240 EXP configuration.

(weights XDR add 30g shimano)

PLEASE NOTE QUOTED WEIGHTS ABOVE ARE LIGHTEST VERSIONS WITH ALLOY NIPPLES - BY DEFAULT WE BUILD WITH TOUGHER BLACK BRASS NIPPLES. Let us know when you order if you want alloy.

Suggested max rider weight
Up to 120kg 
Reviews
Be the first to review this product.
Leave A Review