CLEARANCE £300 OFF: 2023 Kinetic-One K1-50/85UC Carbon Rim Brake Wheelset
You will earn
0 reward points
with this purchase
Sharing is caring

Send this to a friend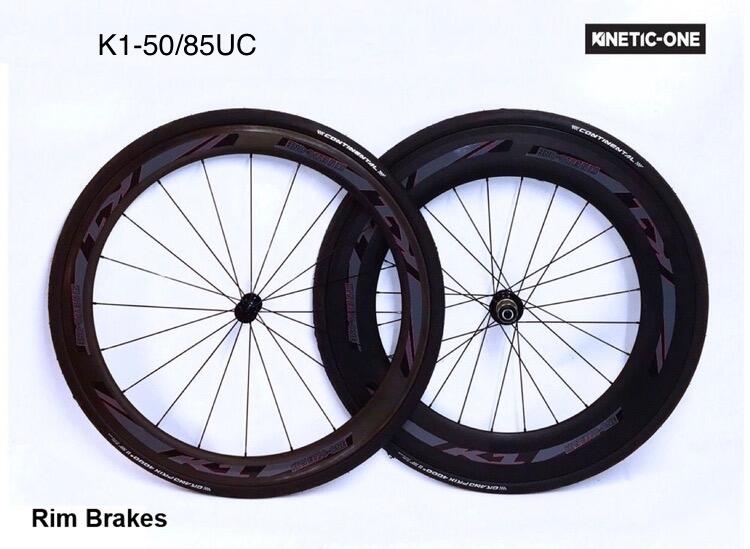 SCROLL ACROSS TO SEE DECAL OPTIONS
---
INTENDED USE: This RIM BRAKE wheelset is ideal for both shorter and longer Time Trials and Triathlons. Where speed and aerodynamics and WEIGHT SAVING are king. This is our tried-and-tested, lightweight, full carbon deep wheelset. It's evolved this year too: And is now fully CLINCHER/TUBELESS COMPATIBLE.
Now with bladed aero spokes as standard - or upgrade to lighter and even faster hubs and spokes!
---

The 50/85UC  deep wheelset is superbly aero, beautifully balanced, and reassuringly well constructed from industry standard Japanese carbon. 

The 50mm semi-toroidal front wheel is both superbly aerodynamic and extremely light.(this is the advantage that full carbon offers) The rim shape gives it superb cross-wind handling characteristics too.

This is coupled with our ultra-deep rear 85mm deep rear - to minimise drag and give you every watt of power - and at superbly low weight. As little as 1740 grams a PAIR  in its lightest build option.
---
Your wheels will be hand built to order in the UK. (current build times are 14-21 days).
---
BUILD VERSIONS (Hub and Spoke Options)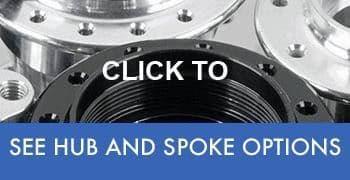 ---
Offered With Full Warranty and Professional 'In-House' Mechanic Support
---

The 25 mm wide 50/85UC's 's are built around our modern "semi U" shaped structural carbon semi-toroidal aero rim. designed to run best with 23-28mm wide tyres but will also run 23c tyres fine).  The rim is designed to cut through the air going forward, whilst maintaining a superb lateral integrity to cross-winds across a full range of wind "yaw" angles.  

In terms of rim width we think we've really hit the sweet spot with this years entire range of rim-brake carbons being from 25-26.5mm wide. We carefully explore all of the many possible widths that aero wheels are being developed in. We develop and continually hone our own testing protocols to this effect - and critically we look at a whole raft of practical issues too that many rim makers simply overlook. For example frame spacing: Yes its possible to go wider - but at what point do wheels begin to compromise the frame. The last thing you want is to find that your carbon wheels rub your frame the moment you get out of the saddle! 25-26.5mm wide is in our view the best blend of performance and practical usability in our experience.



NOTE: These wheels are ideal for UK roads and descents in all but the hottest weathers. If you are intending to race very long descents in hot weathers (such as continental summer sportives or just want a more familiar braking feel - you may want to look at our full-carbon filament-wound wheels. All full carbon rim-brake wheels (from all brands) do need more considered "pulsed" braking on long hot descents to prevent rims from heating too much (Our full-carbon filament-wound rims have amongst the highest temperature-resistant rim tech available!). Keep it safe and keep it simple: If you are in any doubt in unfamiliar conditions - Use your Alloys that day. We also advise avoiding latex inner-tubes in unusually hot conditions and upgrading brake-blocks to SwissStop Yellows.

The technology has come such a long way in recent years that most riders are now fine with full-carbons, and they are lighter of course. We just like to give our customers all the facts . In fact we have never had a single rim issue on any our carbon wheels - we think this is because we are very straight with people about their relative advantages and disadvantages! And please do read our page on safe braking/usage and care for your carbon wheels.
---

TECHNICAL SPECIFICATION
RIM

700c FULL structural carbon

UD MATTE TORAYCA CARBON (Japan)
CLINCHER & TUBELESS READY 

FREEHUB FITTING
SHIM/SRAM 7/8/9/10/11/12 or  CAMPAG 9/10/11/12 or XDR 11-12
HUB
Ambrosio, or Bitex 
BEARINGS
Sealed Cartridge throughout All hub types
SPOKES
 24/24 spoke combinations: PSR Aero
NIPPLES
Alpina Blu power Nyloc Self-locking (the best!)
RIM TAPES
Included
QUICK RELEASE
Not Included
CARBON BRAKE BLOCKS
Included

WEIGHT

1795 GRAMS PER PAIR  AEROLIGHT Version

1740 GRAMS PER PAIR  SUPERAEROLIGHT version

Suggested max rider weight
Up to 110kg
Reviews
Be the first to review this product.
Leave A Review