We are a UK specialist family Wheelbuilder and performance analyst. We've been doing this more than 20 years and just cannot shake the bug. We are a small and vibrant team of 4 and its so great to have such fantastic people involved.
Andy Morgan who runs K1, trained and worked as an Analytical Scientist and was working towards a PhD in Environmental Chemistry when he decided on a life change, retrained as an anthropologist and started working in the field of disability - eventually becoming the national Director of The UK's Disability Conciliation Service under contract to the UK governments Disability Rights Commission. Around the same time, the turn of the century, he started to get back into sport and went a bit crazy. Racing his bike 3 times a week for the next 15 years, qualifying as a British Cycling coach and as a Cytech 3 bike mechanic, and very soon after that, Kinetic-One was born.
The technical systems side is run by Alfie Habul-Morgan supported by Tony Brent and order processing and administration is run by Ellie Habul-Morgan.
We began life as the UK's first Bike-fitting Service back in 1999. Back in those days bike-fitting was almost unheard of! As part of this work we got asked by more and more customers if we could build them a bike specifically to fit them. Almost by accident we became the UK's first fully bespoke brand of performance bikes - each customers bike being built only after a detailed bio-mechanical and performance assessment of the customers strengths and needs. As part of this evolution- we launched our first Kinetic-One wheels back in 1999. (Branded Kinetic2 in fact as Kinetic-One was then the bike-fitting side of things!)
We did all this until 2015 when Andy was diagnosed with a chronic neuro-immune disease that left him unable to walk without sticks - the hardest part was that he could no longer ride. After almost 20 years the bike fitting and bike-building work ended overnight. Bike fitting involves lots of kneeling and standing and kneeling again. When he realised that it didn't feel very professional to keep asking his customers to get off their bike to help him up - it became pretty apparent that a change in direction was needed! So in 2015 we relaunched Kinetic-One as a brand of wheels-only. At time of writing (2023), Andy is now walking with sticks and hoping to one day restart the bike-fitting service again - this time to compliment our wheels rather than the other way round!
However our real expertise is now of course in building wheels - after all this has been the one thing we have done constantly throughout the last 20 years. Andy has also built himself an electric bike - and promises never to judge anyone who rides them ever again!
Our ever-evolving model is based on a combination of solid craftsmanship, technological development, And the constant conversations we have with our customers and the elite riders/triathletes we sponsor about what they need and what will benefit them most.
By positioning ourselves at the forefront of what we like to refer to as Cycling Dynamics we assist riders to quantifiably and scientifically achieve their goals.
Our Range of Road, TT, Tri and Trail wheels
We invite you to explore our range to see how we can help you get the most from your riding. Whether that's going faster, further, lighter stronger. And if you're not sure what you need - Please do get in touch!
The Kinetic-One range is designed by Andy Morgan and 100% built here in the UK, and has evolved over the past decade and more - and is the direct result of a lifetime spent in cycling. Andy has been riding bikes for almost 50 years now. And across almost a dozen disciplines. From the youth scene back in the early 80's through to the Sportive and Tri boom of the 21st century. That's a lot of wheels used.
Unable to ride or walk unassisted since coming down with an auto-immune disease in 2015, Andy now obsessively devotes his time to assisting other riders to get faster.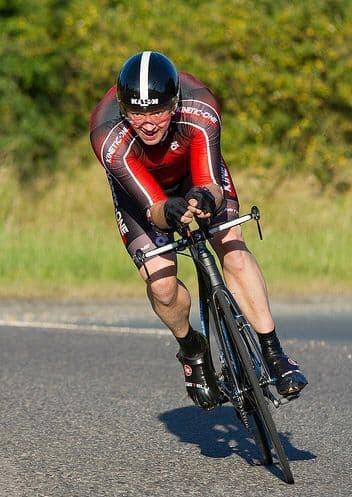 Andy Morgan riding a Time Trial in Poole in the "early days" of Aero
profile at: https://www.ttlegends.org/men-cyclists/?mid=7469
For example: Andy still brags about being one of 60 or so hardy soles who participated in what we believe was the first ever UK Sportive some 20+ years ago ( The very first dragon ride that now of course has 5000+ riders annually), He has also ridden audax, duathlon, touring, the odd bunch race and over 600 time trials - and in fact he still lays claim to one club 10 Mile record (albeit as the slowest member of a record breaking time trial 3up team!)
And like all ageing-cyclists he subscribes to the old adage that: "The older I get the better I was!"
So by the time you read this he will probably claim to have been in the Commonwealth games and give it a few years he will have beaten Sean Kelly in the Race to the Sun…….
And give it a few years more he will have been robbed of the chance of a grand tour win by UCI regs! Errr…
Wheels have come a long way since those days but perhaps unsurprisingly riders' requirements still are the same as ever;
fast wheels,
strong wheels,
well built wheels,
reliable wheels,
affordable wheels
attractive and stylish looking wheels
At K1 we always aim to excel in all these departments - And throughout our range of sportive specific wheels right through to our TT/Tri wheels, and beyond, to the emerging generation of disc wheels, we strive to hold onto quality above all else - after all wheels get a hammering on UK roads!
Welcome to K1