2024 Kinetic-One K1-56FW Aero ROAD Disc Carbon Wheelset
You will earn
0 reward points
with this purchase
Sharing is caring

Send this to a friend
SCROLL ACROSS TO SEE OUR STUNNING NEW DECAL OPTIONS
---
INTENDED USE: Our newest, deepest ever, carbon disc wheelset is ideal for Time Trials, Triathlons, and any situation where maximum top-end speed is your need! This is the disc version of our best-selling 65FW Filament Wound wheelset.
Superbly aero, prodigiously strong, compatible with all modern axle/rotor systems - and at a rim width specifically optimised for the new generation of superfast tyres (clincher and tubeless).
---
Combining all the knowledge and experience we've built up over the past 20 years. The 56FWs combine low weights, with maximal aero gains, married to the latest rim profiles (to get the most from modern tyre systems).  And on top of all this: the FILAMENT-WINDING construction makes them prodigiously strong. Rated in fact to 120kg.
   
We designed them specifically to get the best out of the new generation clincher and tubeless tyres. At 30mm wide (21mm internal) the rims are optimised for seamless interfacing to road tyres in the 25 to 35mm range (but they will also take wider tyres such as the new breed of CX tubeless too!)
   
Filament winding technology is an automated method which has revolutionised rim consistency in the manufacture of full carbon wheels. Each rim is made from single carbon filaments precisely wound into shape - with no joints or junctions - this enables a uniformity and strength that builds into the roundest and most balanced wheels possible. This extends into the quality control stages where each and every rim is X-Rayed to ensure uniformity and compliance.  
 

---
Your wheels will be hand built to order in the UK. (current build times are 14-21 days).
---
BUILD VERSIONS (Hub and Spoke Options)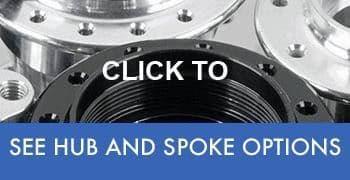 Our standard  builds are anything but "entry-level. Our SUPERAEROLIGHT build uses the superb Bitex hubs from Taiwan (the world's longest established hub maker!). Both options laced with Pillars excel PSR Aero spokes.
When specced with our recommended SUPERAEROLIGHT++  build with BITEX futureproofed hubs and the wonderfully aero and light SAPIM CXRAY spokes.... They come in at 1545 grams a pair.
Further 100 gram weight-savings and aero gains come with the fabulous upgraded CARBON-Ti  version.
or upgrade to what we think are the worlds best engineered disc hubs,  DT SWISS DT240s hubs with CXRAY SPOKES, to keep the weight around 1660 grams and add many years to the life of your wheels. 
---
Offered With Full Warranty and Backup Support
---
 
   
It's an incredibly fast-moving time for road disc systems at the moment with lots of competing standards for Axle types and frame fitting methods and for rotor fastening.  
   
The K1-56FWs are hand built to order and are available for the whole wide range of modern axle and rotor fitment systems. Whatever your frame needs we can configure these wheels to your bike. And even if you change your bike - the hubs are all simply convertible to all the other axles standards! We think that's massively important as it future-proofs your wheels! (no one wants to be left with the betamax of hub types and obsolete wheels!)  
   
Or just drop us a line If you don't know what system your bike has (you won't be alone -  many people very understandably don't know, they just want to ride their bike after all!)  
   
AXLES : We can configure your wheel axles to meet your frame requirements. So whether you have standard quick release or the more modern "thru-axle" setup, or whether you have 135mm or 142 mm rear spacing, we can supply them ready-to-roll!  
   
ROTOR / HUB FITMENT : We use Bitex 6-drive hubs. WE NOW ALSO OFFER THE ULTIMATE IN PERFORMANCE HUBS. The DTSwiss 350 and 240 series and the NEW Carbon-Ti hubs, in both Centerlock and 6-Bolt flavours. Weights below for c/lock. Add approx 100 grams for 6-bolt.
   
PLEASE NOTE THAT ALL HUB OPTIONS ARE SHOWN AS CENTERLOCK - WE CAN SUPPLY ALL OUR HUBS IN 6-BOLT FITTING TOO.    
TECHNICAL SPECIFICATION
MOD

EL

700c, Filament wound 65mm deep, Full carbon aero rim

Higher Modulus Torayca Carbon (Japan)

VERSIONS

CHOICE OF DECALS

FINISH

UD MATTE CARBON

RIM

56 mm vertical height, 30mm wide,  21mm internal Full carbon Clincher rim - (which is Tubeless ready also)

SPOKE OPTIONS

24/24 PSR AERO or SAPIM CX RAY
2-cross FRONT /REAR

NIPPLES

black brassor alloy


HUB OPTIONS

Bitex Superlight, or DTSwiss or Carbon-Ti






SUGGESTED MAX RIDER

24/24 SPOKE 120kg


 

WEIGHT

FROM 1595 grams :  SUPERAEROLIGHT 

FROM 1545 grams : SUPERAEROLIGHT++ (BITEX SL / CXRAY)

FROM 1575 grams  : DT240/ cxray 

FROM 1450 grams: Carbon-Ti / cxray

(WEIGHTS  FOR XDR - AND VARY WITH AXLE/ROTOR TYPE)

PLEASE NOTE QUOTED WEIGHTS ABOVE ARE LIGHTEST VERSIONS WITH ALLOY NIPPLES - BY DEFAULT WE BUILD WITH TOUGHER BLACK BRASS NIPPLES. Let us know when you order if you want alloy.
Reviews
Be the first to review this product.
Leave A Review