2024 Kinetic-One K1-45SL GRAPHITE Alloy RIM BRAKE wheelset
You will earn
0 reward points
with this purchase
Sharing is caring

Send this to a friend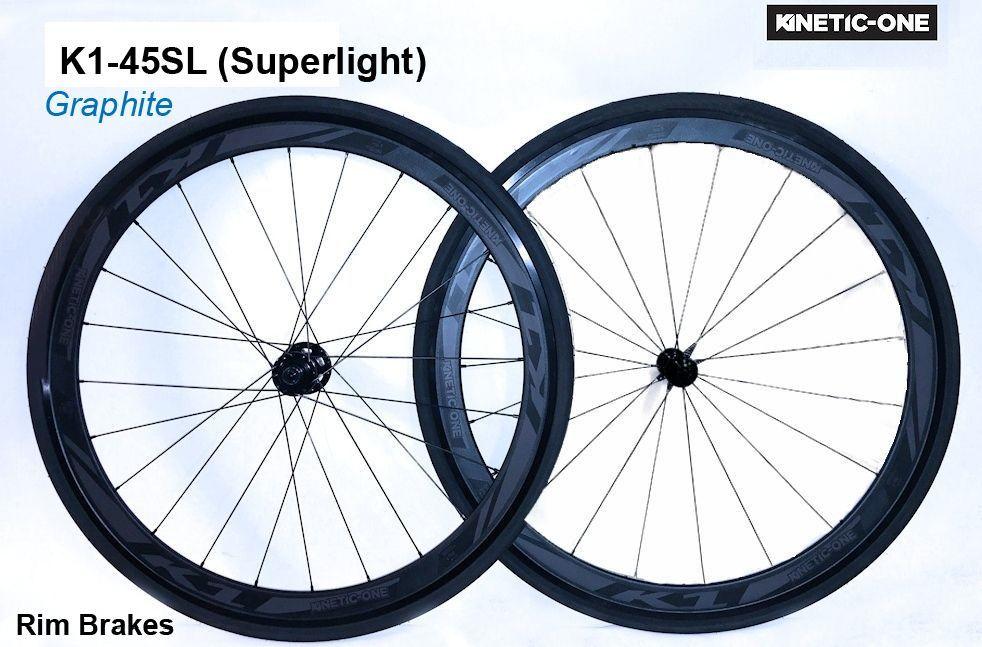 SCROLL ACROSS TO SEE OUR STUNNING NEW DECAL OPTIONS
INTENDED USE:  Sportives, Bunch races, Time Trials and Triathlons (from Sprint to IRONMAN distance.) This is our 'SUPERLIGHT' K1-45SL Deep Alloy wheelset. Available in several build options - with weights as low as 1670 grams per pair. Superbly light for a deep alloy wheelset. They also feature our superb and rather beautiful full matt black graphite alloy rims.
This is the Limited edition version of our best selling alloy deep section wheelset! A high-end ALLOY aero wheelset for riders who want all the aero benefit and lightness of carbon - but want to stick with a more robust material.
The K1-45SL is incredibly versatile: a raceday wheelset, A 'Sunday best' set for your posh bike, and all-season/heavy load wheelset. 
---
Your wheels will be hand built to order in the UK. (current build times are 14-21 days).
---
BUILD VERSIONS (Hub and Spoke Options)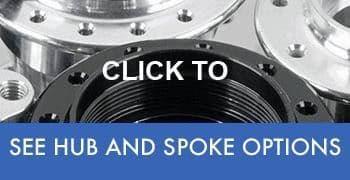 And available in a range of builds:
Starting with our entry level  AEROLIGHT build these wheels already feature Italian hubs and class leading aero spokes.
Our upgraders 'all-season'  SUPERAEROLIGHT  build features superb Bitex hubs and PSR superlight aero spokes. This is our 'go-to' racing/training high-performance build.
Or for the Ultimate in aerodynamics and weightsaving: the Bitex SL hubs used on our SUPERAEROLIGHT++ build are among the lightest high-performance hubs available - And what's more we combine these with the Sapim CXRAY spoke - the worlds best spoke bar none! 
Or for the worlds finest hubs and spokes upgrade to dream compements with our DT350, DT240 or Carbon-Ti builds.
Contact us if you're not sure whats best for you. Or click on the button above button to find out more about our build versions
The use of such fabulous components enables us to produce a true "pro-level" multi-functional aero wheelset, at a reachable price point. And of course they are hand-built in Gloucestershire!!
---
Offered With Full Warranty and professional mechanic support in-house.
---
This wheel has a very specific place in our range (and in our hearts!). A super deep-section lightweight alloy wheel is the perfect "do-everything-wheelset" for multi-gradient triathlons, time trials and even sportives. Designed to run best with 25mm or 23mm tyres.

Light enough and comfortable enough to get you up those hills in good shape, (with silky smooth bearings to help even more), and aero enough to gift you free-speed on the flats and the downhills. At the same time these wheels have an additional benefit compared to carbon wheels: Their durability and strength.


TECHNICAL SPECIFICATION
RIM

Aluminium welded 45mm deep circumferential.
CLINCHER ONLY - NOT TUBELESS

The black Graphite anodised braking surface is an aesthetic finish, it will wear to a normal silver surface during usage. We supply softer rim kind brake pads to help the coating last. Using wheels in wet/gritty/wintry conditions will accelerate the change.

FREEHUB FITTING
SHIM/SRAM 7/8/9/10/11/12 or CAMPAG 9/10/11/12 or XDR 11/12
HUB

Ambrosio, Bitex, or Bitex Superlight, Or DT Swiss or Carbon-Ti hubs

BEARINGS
Sealed Cartridge throughout All hub types
SPOKES

PSR Aero, PSR Aero SL,   or CXRAY Aero

NIPPLES
Alpina Blu power Nyloc Self-locking (the best!)
RIM TAPES
Included
QUICK RELEASE
Not Included
Anodised friendly brake blocks
INCLUDED

WEIGHT 

1795 grams (AeroLight build)

1750 grams  (SuperAeroLight  build)

1695 grams (Superaerolight++ build)

1670  grams ( Carbon-Ti build)

1725 grams (DT240 build)

 weights XDR : +35 grams shimano

PLEASE NOTE QUOTED WEIGHTS ABOVE ARE LIGHTEST VERSIONS WITH ALLOY NIPPLES - BY DEFAULT WE BUILD WITH TOUGHER BLACK BRASS NIPPLES. Let us know when you order if you want alloy.

Max Rider weight

100kg  20/24 spokes

120kg 24/28 spokes

(Heavier riders please see our k1-45slt for heavier riders).



Reviews
I've been running my K1 wheels since September 2014 for both long weekend rides and the daily commute. They still look as good as new and are rolling perfectly. The wheels are proving to be bomb proof as advertised, built reassuringly well, they remain tight and stiff as the day they arrived. Add the stunningly good looks and you have a fantastically priced set of top quality wheels. So, take the great experience I have had so far with these wheels and add the flawless service Kinetic-One provided in processing my order and delivering (updates by email all the way including the name of the delivery driver and the name of my neighbour who took the delivery as I was out!) and your left with one option. Buy these wheels now! A top end product at bottom end prices supplied by a thorough and professional UK company! What more do you want?
Excellent value for money, quality and looks. The wheels roll nicely, feel very firm and strong with no hint of flex and do look at least twice the price thanks to the modest graphics and bladed spokes. Would recommend them as TT, road or training wheels.
Loved the colour scheme of the decals from the first moment I saw them, so decided to take a chance on other reviews. Happy to say that the reviews I read were good and true. The wheels are very well built and to an extremely high quality! They are slightly heavy compared with similar on the market at this price, but, with the aero rim, the nice free wheeling hub, the ride is still fantastic! I love these wheels...they are fast, smooth and very pretty.
Just bought some of these - They will be replacing a pair of K1 wheels that I purchased from you just over 10 years ago (June 2009) and I have to say that they've been absolutely faultless. At the time a few hundred seemed a lot to pay for a set of wheels but they've covered well over 10,000 miles on some challenging road surfaces and haven't skipped a beat until recently when the freehub began to slip. A very shrewd investment and a testament to Kinetic One quality!
The best wheels I have ever had, they've survived a crash in a race and many miles of brutal winter training. On training rides and in road races I'm always comfortably cruising past others on freewheeling descents. I'm not a particularly heavy rider either (11st 3lbs).
Excellent wheels. . Very happy with them.. have had 600km spins plus all the training. . Very solid and free rolling.
I wanted a light yet sturdy deep section wheel set which wasn't going to cost the world and what I got surpassed all my expectations, from Andy assisting me in developing the wheels I wanted (deep section with race spokes) right through to the delivery, the whole process was brilliant. As for the wheels themselves, again just brilliant, fast rolling, strong and very responsive, wheels I was able to trust right from the start, in a nutshell absolutely fantastic in every aspect.
Love them. They Feel a strong and solid wheel and roll really well!
Wheels arrived yesterday, after a couple of anxious days, Thanks you very much. Put them straight to work today in a local 65 km graded handicap. Dalton (son) finished in the front bunch from C grade with an average speed of 44 kph (27-28 mph) on his restricted u17 gearing. It was an extremely fast race today, and I was pleasantly suprised to see him still in the train that rolled over my lowly E grade bunch with 5 km to go. The only other junior to finish with the front group on the day was running unrestricted gearing. We are both extremely happy with the way the wheels preformed today. They certainly raised quite a few eybrows from the other juniors, most assuming he was running carbons. Will shoot you an update along with some photos after our nationals trip
Hello Andy, after a weekend of excessive testing, I am absolutely happy with the wheelset, you have built for me. We had some hard rides with long and steep mountains followed with a certain number of sprints. After using quite a few sets of prebuilt system wheels (Mavic, Fulcrum, Campagnolo), I believe I found the one, that fits all my requirements. Thanks again for building these great wheels for me!
Hi Andy, the wheels came yesterday and good timing, they are amazing, smashed PB for 10m by over 90 seconds, they just keep spinning so much more efficiently than the standard giant wheels that came with the bike. Seemed to make going uphill easier too. Thanks, Cheers, James
These are the second pair of wheels from Kinetic One and probably won't be my last! Great value upgrade to my triathlon race bike (the previous set went on my road bike) especially compared to the standard factory wheels that come on the bike when new. The wheels are a great compromise between strength, weight and aero performance. I also find the pricing to be the best value available compared to comparable products. Top it off with a good personal service from Andy it is difficult to find any fault at all.
You know you have good wheels when your mates have to pedal down hill to keep up with you...My K1's are excellent.
My K1 wheels have been everything I could have wished for.I am currently training for a European event from Switzerland to London so have done plenty of miles with no problems.Not surprised that they are their best sellers.
Was looking around for carbon wheels and then I saw these. They did a good selling job with what they wrote as I was a bit nervous about carbon wheel strength anyway - so it touched a nerve. I love these wheels. had them only 2 months so can't comment on long term durability yet - but they are still so true and really feel incredibly strong when riding them over bad roads etc. Bought them to race on but have to say that they are on my bike 24/7 already!
Service = excellent Delivery = well packaged and when stated The product to look at = wheels look the business! To use = admittedly the previous wheels were bog standard but even still the difference was ammence! More speed everywhere, especially on climbs. Avg speed has increased by 3mph! Went from mid table in competitions on the bike leg to now getting into the top 10 percent. With the old wheels I struggled to roll past 60 mile rides and now I've done 100+ ones. With the exception of my bike (which I won't be sending a pic of as although I love it, looking at your gallery, I would feel bad if I saw a pic of mine!) the single best bit of kit I've brought to improve my tri performance and all round biking satisfaction!
I purchased a set of wheels from you some 3 or 4 months ago. First impression was they looked very good but I wanted to give them a good road testing before I made my mind up about them. I am very pleased to say I think these wheels are great and I have no hesitation in recommending them to a lot of people who have asked me about them.will be coming back to you when they need replacing which I think will be along while off yet.thanks very much Bob G
I actually have 2 sets of these - one with track hubs for my singlespeed (that Andy built specially for me) and one for my Bianchi with gears. Both sets perform great and look great and I would recommend them. A Kinetic shop in Ireland would do well!
Outstanding Product and Service - Absolutely amazing service from the entire team at K1. Personal contact from Andy throughout your update on order and build status. Wheels arrived and are absolutely stunning up close. The K1-45SL are amazingly fast and light... These wheels are extremely well put together and are a joy to ride. Many Thanks!
I also wanted to give you some really positive feedback on the two wheel sets I bought earlier this year. I can honestly say they are the best alloy wheels I have ever owned. The K1-42TL have made me fall in love with my cross bike all over again (sad isn't it!) I have put some Vitoria Corsa Speed G+ tubeless on and now have a rapid commuter bike for the summer as well as a mud loving crosser for the winter! I have also proven that they remain true after a low speed collision with an Audi A5 (whose bumper came off second best, unbelievably the driver said she thought cars had right of way at mini-roundabouts over bikes that's why she pulled out!!!). The K1-45 SL have done about 2000 miles on my Scott foil and are still immaculately true and look almost new! I recommended you to a friend who is also delighted with his new wheelset.
Great wheels This was my first time buying new wheels and it was daunting to start with. However, speaking to Andy was the best thing I ever did. He spent 45mins talking me through the different choices, how my aims as a cyclist played an important part and most importantly never mad me feel like he was pushing me to go for the most expensive option. The wheels arrived early and are really well built. They are stiff and feel quick when I put my foot down. They look great too with stealth decals! Couldn't recommend Andy and Kinetic-one enough.
Leave A Review