2024 Kinetic-One K1-50FW ULTIMATE Carbon RIM BRAKE Wheelset
You will earn
0 reward points
with this purchase
Sharing is caring

Send this to a friend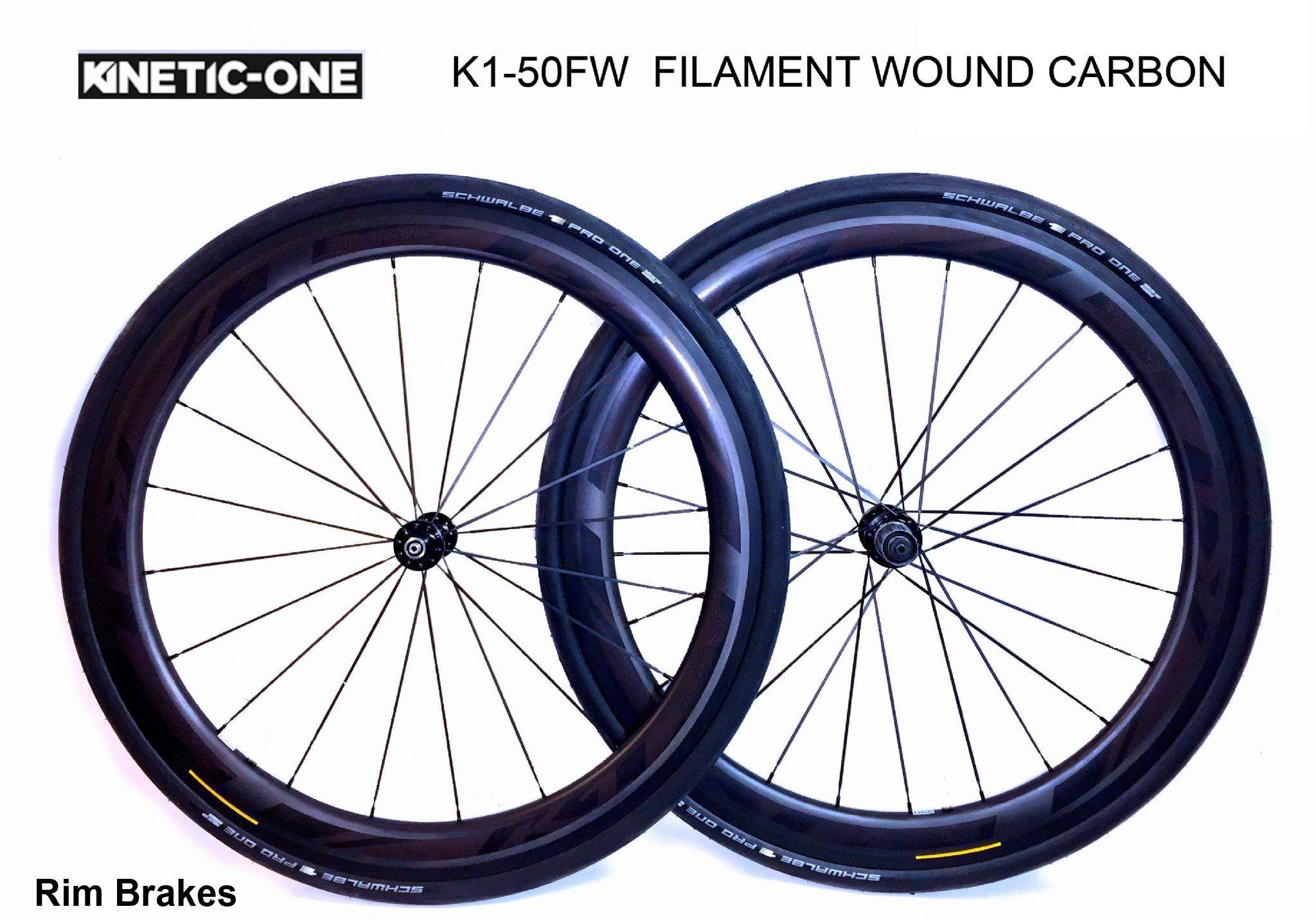 SCROLL ACROSS TO SEE DECAL OPTIONS
---
INTENDED USE: With weights as low as 1325 grams - This is the latest version of our Premium Ultimate full carbon 50mm deep aero RIM BRAKE wheelset. .
OUR WHEELS ARE STRONG: RATED TO 120KG
Fully updated with the latest carbon FILAMENT WOUND (FW) technology to create a fantastic ride performance, with superb braking, cushioning, cross-wind handling and heat dissipation.

This wheelset is ideal for Road, Sportives, Triathlons, and also spot-on for Time Trials too.  They are "2-Way Fit", Meaning they are designed for both clincher tyres and the new generation of tubeless tyres.
---
Your wheels will be hand built to order in the UK. (current build times are 14-21 days.
---
BUILD VERSIONS (Hub and Spoke Options)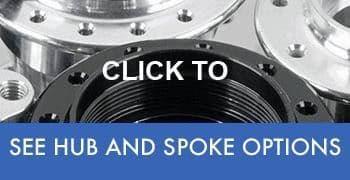 Our standard SUPERAEROLIGHT build uses the superb Bitex hubs from Taiwan (the world's longest established hub maker!). Both options laced with Pillars excel PSR Aero spokes.
For Maximum Aerodynamics, Lightness and All-Round Performance on a sensible budget: go for our standard SUPERAEROLIGHT++ build version (with the wonderfully aero CXRAY superlight spokes and Bitex Lightweight 'all-season' hubs). They come in at 1345 Grams a PAIR!!    
By using cxray spokes and Carbon-Ti's incredibly light and beautiful 220 gram hubset , we can save another 20 grams! That's our 1325 gram CARBON Ti version.
Or if you want the best engineered hubs on the planet - you can now upgrade to one of our DTSWISS builds for the ultimate in Swiss precision engineering!
---
  
Filament winding technology is an automated method which has revolutionised rim consistency in the manufacture of full carbon wheels. Made from single carbon filaments - the manufacturing process enables precise control of every step - resulting in the roundest, strongest, lightest wheel combinations.  
 
This level of precision and care extends throughout the entire quality control process -  with each and every rim X-Rayed for structural uniformity and compliance.  
 
Not only does this make for stronger, longer lasting wheels - but also the nature of the "winding process"  facilitates another new technology that massively increases braking capability - especially at high temperatures.    
 
The filament winding process enables the injection of a patented ultra heat resistant resin - directly into the carbon filaments - whilst the rim is built. This means the rim's braking surface is fully impregnated with resin during manufacture - rather than a braking surface being added to the surface of the rim post-production.

This makes for better braking - especially on longer descents. These rims have their braking performance tested up to 230 degrees celcius.  This is 20  degrees higher than our previous rims - and as high as any top-end rims on the market.
NOTE: Whilst rim tech has leapt forward in recent years - there are still some major things users of carbon wheels need to know! Please do read our page on safe braking and care for your carbon wheels HERE
Your wheels will be Handbuilt here in the UK. We combine traditional wheel-building techniques with cutting edge technology. And the world of carbon wheel-tech moves endlessly forward! Exciting times!

YOU CAN RUN THESE WHEELS WITH CLINCHERS OR WITH TUBELESS TYRES: IF YOU WANT US TO SUPPLY AND FIT NEW TYRES  FOR YOU... WE CAN DO JUST THAT. Then you're ready to ride them straight out of the box.


Ideal for tyres from 23-30mm width.

The rim width debate will continue to rage and rage. What with rims now available from 19 mm right through to 28mm wide. We've decided to go straight down the middle and our rims are Significantly wider than old-school rims but not crazy wide. We think that's the best place to be! 
---
Offered With Full Warranty and professional mechanic support in-house. 
---
TECHNICAL SPECIFICATION
RIM


Full Carbon Clincher  700 C - Filament wound with patented Ultra-High Temp Resin impregnated braking surface.

50mm vertical depth, U-shaped, 25.5mm wide,  Full carbon Clincher rim - TUBELESS COMPATIBLE.  
HIGHER MODULUS TORAYCA CARBON. (Japan)
 

FREEHUB FITTING

SHIM/SRAM 7/8/9/10/11/12 or  CAMPAG 9/10/11/12 or XDR 11/12

HUB

Ambrosio, Bitex, Bitex SL, or DTSWISS 350/240 or Carbon-Ti

BEARINGS

Sealed Cartridge throughout All hub types

SPOKE OPTIONS

 PSR AERO or Sapim CXRay  20/20, 20/24 or 24/24. 

NIPPLES

Alpina Blu power Nyloc Self-locking (the best!)

RIM TAPES

Included

QUICK RELEASE

Included

Carbon specific brake pads

Included

WEIGHT

1395 GRAMS PER PAIR SUPERAEROLIGHT version

1345 GRAMS PER PAIR ( SAL++ CXRAY) version

1385 GRAMS PER PAIR (DT 240 EXP /CXRAY) version

Weights XDR - add 30 grams Shimano/Campag.

PLEASE NOTE QUOTED WEIGHTS ABOVE ARE LIGHTEST VERSIONS WITH ALLOY NIPPLES - BY DEFAULT WE BUILD WITH TOUGHER BLACK BRASS NIPPLES. Let us know when you order if you want alloy.

SUGGESTED MAX RIDER 

120kg
Reviews
Hi Andy, Just thought I'd drop you a line to say I love the wheels. Having now done a few miles on them, including a short time trial and a longer day out I can say that they are both fast and comfortable. I had been running Hunt aero aluminium rims (30mm deep), but your set if anything are less sensitive to crosswinds and feel loads more stable at speed. The pairing to the Conti tubeless tyres also works really well- really confidence inspiring in corners. Thanks for the great kit, I'll be recommending your wheels to anyone who will listen!
Upgraded to these having previously used a Planet X tubular set and a Mavic Cosmic (with alloy braking surface) both around the same rim depth. The K1's have been a considerable upgrade for not much more cost. Andy talked me through spoke and hub options to create the right set up for the riding I do and taking into consideration rider attributes such as weight (for reference I am 67kg). I have used these wheels on both my road bike for circuit races and TT bike for non-draft duathlon as well as a few training rides . I have been thoroughly impressed with the performance of the wheels so far (probably around 500km or riding in total). The depth makes these really versatile as a go to set for racing, TT's or just making your bike look great on a club ride. They get up to speed quickly and the quality of the hubs mean they spin for an eternity, handling is great and has been tested in some less than ideal conditions at Odd Down and Castle Combe with the u-shaped profile seemingly helping with air flow compared to my previous Mavics. The braking has been consistent in both wet and dry conditions with the supplied brake blocks. It's great that you can select your own decals to match bike colours, I went for a subtle grey and black to allow transfer between bikes and a bit of a stealthy look. Overall super impressed and would highly recommend.
Once again they flatter my ability. First real test on the wheels, I set an all time pb over 10 miles. Once again they flatter my ability. 7th overall and age category win!
Great set of strong, lightweight wheels. Superb customer service, satisfaction guaranteed, beyond any imagination. Totally satisfied.
Just wanted to say thanks for the wheels. They're great. Lightweight, strong and true. Took them on the club chaingang and had lots of people asking where they're from so hopefully put a few more customers your way. Attached a photo of them on my old btwin Mach 740. Forgot to mention, superb value for money (see gallery)
Great wheels, they look and feel great to ride. A great improvement on the standard wheels that came with the bike. Excellent communication and delivery information.
I do love these wheels. It did take some serious soul-searching before i finally hit the button and went for wider rims. (I used to race on 16mm rims back in olden-times!) I did have a few problems with setup as My Tektro brake calipers could not really handle the width of the rim. As soon as I put some Shimano brakes on all fine and I have not looked back - 28c tyres are so comfortable too. Brave new world!
I carried out a lot of research before deciding to purchase the K150 carbon wheels with 28mm wide tyres. I decided to go for lighter Sapim CRray on Bitex hubs, so they would be lighter than my existing wheel set. I have found a marked increase in speed on the flat using the same effort / power & down hill speed has increased also. Really like how they look. So all in all I'm very happy with my purchase at a very competitive price & would highly recommend these wheels to others.
I bought these on recommendation from a friend. I've nothing to compare them with as they are my first and only (ever i suspect) pair of carbon wheels. I do know they make me go faster and make my bike look very nice. Being able to choose the finish colour is a very nice touch. Thank you.
My carbon K1 50's look & sound really cool - they seem as quick as £2k knight composites I have on another bike , accelerate & climb well & aren't affected by crosswinds or the Ukrainian road conditions around The Malverns -the owner of Detour cycles Malvern was very complimentary- will send photo when I stop at a good photo opportunity & stop chasing times - thanks Phil
K1 FW50 Ultimates. First time out yesterday felt great. Great customer service. Thanks Andy Kinetic-One Bike Wheels From Facebook 2022
Happy with my purchase It was great to chat to Andy about pros and cons before I bought my wheels. Now that I have them I know I made the right choice. I can feel the difference. My bike now rides, responds is quicker and looks better than before.
Excellent service and wheels If like me you are unsure about buying wheels from a smaller company do as I did and ring Andy. He is so easy to talk too and gives good honest advise with no sales push. As for the wheels, from the first ride these wheels impressed. Stiffness is spot on and they roll beautifully smooth, as for braking, I didn't know carbon could be so good. First few rides where in very windy conditions with no problems at all. I allowed my son to try them ( he lives in the Peak district ), he loved them so much I ended having to buy another set. So I let him have the first set and treated myself to the Ultimates. Brilliant. The personal touch I got from Kinetic- One I am sure I would not have received from any of the big brands. Thank you Andy
Leave A Review