2024 Kinetic-One K1-50FW ULTIMATE Carbon Aero Road Disc Wheelset
You will earn
0 reward points
with this purchase
Sharing is caring

Send this to a friend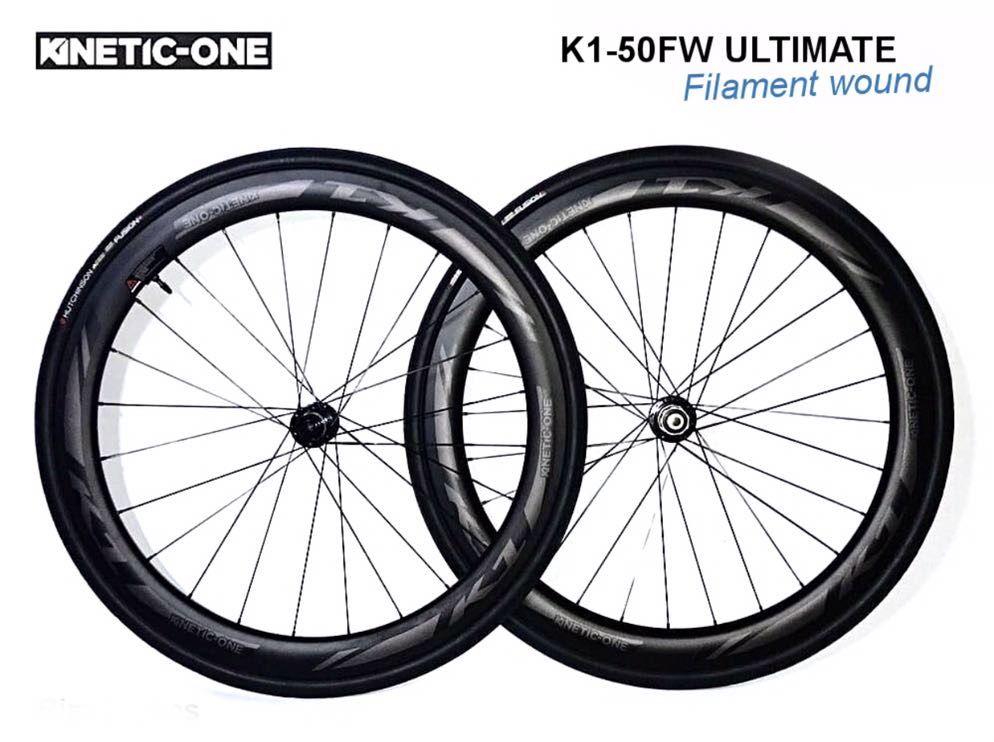 SCROLL ACROSS TO SEE OUR STUNNING NEW DECAL OPTIONS
---
 INTENDED USE: Our Ultimate  Aero disc-brake ROAD wheelset. Specified for maximal speed and acceleration in road racing, triathlon, sportives and club chain-gangs.
Specified with Bitex lightest hubs and SAPIM CXRAY spokesas standard - with upgrade options available too.
---
Combining all the knowledge and experience we've built up over the past 20 years. The 50FW's combine low weights, with maximal aero gains, married to the latest rim profiles (to get the most from modern tyre systems). And on top of all this: the FILAMENT-WINDING construction makes them prodigiously strong. Rated in fact to 120kg.
 
We designed them specifically to get the best out of the new generation clincher and tubeless tyres. At 29.5mm wide the rims are optimised for seamless interfacing to road tyres in the 25 to 35mm range (but they will also take wider tyres such as the new breed of CX tubeless too!)
Weighing in from as little as 1495 grams, they are rated for riders up to 120kg. Thats very light and strong for a 29.5mm wide (21mm internal), fully tubeless/clincher compatible wheelset.


Our premium full-carbon wheelset utilises patented filament-wound, robotic-built, ultra-high temperature K1-50FW rims. Available in stunning matte black finish with choice of decal colours.
 
Sounds fancy: Filament winding technology is an automated method which has revolutionised rim consistency in the manufacture of full carbon wheels. Each rim is made from single carbon filaments precisely wound into shape - with no joints or junctions - this enables a uniformity and strength that builds into the roundest and most balanced wheels possible. 
 
This extends into the quality control stages where each and every rim is X-Rayed to ensure uniformity and compliance.
---
Your wheels will be hand built to order in the UK. (current build times are 14-21 days).
---
BUILD VERSIONS (Hub and Spoke Options)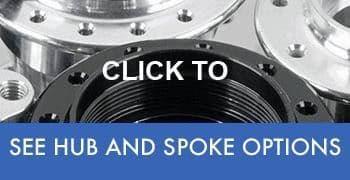 Our standard SUPERAEROLIGHT build uses the superb Bitex hubs from Taiwan (the world's longest established hub maker!). Both options laced with Pillars excel PSR Aero spokes.

When specced in our SUPERAEROLIGHT ++ Build. This includes Bitex's lightest performance hubs and SAPIM CXRAY spokes and takes the build weight to sub-1500 grams.
Or to save another 100 grams and spec your bike with the most phenomenal boutique performance hubs - hiw about the astonishing Italian Carbon-Ti hubs?!
Or for the Ultimate in precision builds. Go DT Swiss - simply the worlds best engineered hubs.
---
 Offered With Full Warranty and professional mechanic support in-house.
---
This is the newest of our K1 carbon wheelsets. At 29.5mm wide, with a full carbon u-shaped asymmetric rim profile (to perfectly balance spoke tensions) - it is aimed at those riders who prefer an ultra-modern wider rimmed wheelset.
 
The new generation wide rims are perfectly suited to disc-brake riding. They are very strong, yet very light and very forgiving to ride.  Aimed primarily at road riders using 25mm to 32mm tyres. Though they will take tyres up to 60mm and beyond! Perfect for running tyres at lower pressure and arguably more aerodynamic and faster rolling than traditional hoops!
   
It's an incredibly fast-moving time for road disc systems at the moment with lots of competing standards for Axle types and frame fitting methods and for rotor fastening.  
   
The K1-50FWs are hand built to order and are available for the whole wide range of modern axle and rotor fitment systems. Whatever your frame needs we can configure these wheels to your bike. And even if you change your bike - the hubs are all simply convertible to all the other axles standards! We think that's massively important as it future-proofs your wheels! (no one wants to be left with the betamax of hub types and obsolete wheels!)  
   
Or just drop us a line If you don't know what system your bike has (you won't be alone -  many people very understandably don't know, they just want to ride their bike after all!)  
   
AXLES : We can configure your wheel axles to meet your frame requirements. So whether you have standard quick release or the more modern "thru-axle" setup, or whether you have 135mm or 142 mm rear spacing, we can supply them ready-to-roll!  
   
ROTOR / HUB FITMENT : We use the superbly versatile Bitex 6-drive hubs. WE NOW ALSO OFFER THE ULTIMATE IN PERFORMANCE HUBS: The DTSwiss 350 and 240 series AND Carbon-Ti brand hubs, in both Centerlock and 6-Bolt flavours. Weights below for C/Lock. Add approx 100 grams for 6-bolt. 
TECHNICAL SPECIFICATION
MODEL

700c, Filament wound 50mm deep structural carbon.

Higher Modulus Torayca Carbon (Japan)

VERSIONS

CHOICE OF DECALS

FINISH

UD MATTE CARBON

RIM

50mm vertical height, U-shaped asymmetric, 29.5mm wide, (21mm internal) Full carbon Clincher rim - (which is Tubeless ready also)

SPOKE OPTIONS

24/24 PSR AERO or SAPIM CX RAY
2-cross FRONT /REAR

NIPPLES

ALPINA NYLOC BLUE POWER or SAPIM DOUBLE-SQUARE

HUB OPTIONS




Bitex standard

Bitex SL - 6-Drive (Light/Tough)

DTSwiss 350 (fabulous all around!)

DTSwiss 240 (simply the world's best hubs!)

Carbon-Ti (Lightest high prrformance hubs!)






SUGGESTED MAX RIDER

24/24 SPOKE 120kg
 

WEIGHT

FROM 1545 grams SUPERAEROLIGHT 

FROM 1400  grams : (Carbon-Ti /CXRAY)

FROM 1495 grams : SUPERAEROLIGHT++ ( BITEX/CXRAY)

FROM 1525 grams : DT240/ CXRAY

(WEIGHTS FOR XDR ADD 30g SHIMANO  - AND WEIGHTS VARY WITH AXLE/ROTOR TYPE)

PLEASE NOTE QUOTED WEIGHTS ABOVE ARE LIGHTEST VERSIONS WITH ALLOY NIPPLES - BY DEFAULT WE BUILD WITH TOUGHER BLACK BRASS NIPPLES. Let us know when you order if you want alloy.






Reviews
I bought these wheels with the intention of an epic adventure (cycling the entire Tour de France 2023 route 1 week ahead of the pros). I successfully finished last Sunday and just wanted to let you know that the wheels never missed a beat in 3,500km over 3 weeks; they were fast, smooth and rolled perfectly (although French tarmac is significantly better than Cheshire lanes). A few people asked me about them so I pointed them in your direction - little photo after Stage 15 (202km and 4,500m climbing overlooking Mont Blanc) Thank you for great service and product!!
Got mine last year. This is my second set off Andy and I bloody love them. Had a rim brake set previously and they were mega I wouldn't go anywhere else service is amazing.
Can't fault Andy's service. After a good deal of online research, I dropped Andy a line and within 30mins he called me to discuss. He then did a load of research on my bike and independently identified that the manufacturer had published an inaccurate measurement, and made allowances for this in the build. Had he not done this due diligence (or I had chosen an off the peg set from elsewhere) I'd have bought wheels that didn't fit. I went for six bolt Bitex hubs and CXRay spokes. They're light, spin beautifully (a genuine, noticeable gain on downhills and flats), stiff in the climbs, great value and look the business. Highly recommended.
What a fantastic set of wheels. Built with my own hubs which are my go to hubs for MTB and road. The build quality and finish is exceptional and the service I had deciding on the build was expertly given. They finish off the look and performance of my Kinesis gf-ti build and I couldn't be more pleased.
I gained 1 mile extra per 30 minutes of riding. I am still new to the sport only 450ish miles on the new bike. The ride is so amazing its like riding on cotton. I also had to adjust the seat again, but overall 8.92 miles in 30 minutes. That was with a pretty stiff 20ish mile an hour head wind a good part of the ride. Will do a few shots of scenery of where I ride this weekend and thanks so much for the rims, they are excuse the language but f*****g amazing as far as softness, the cross winds do move the bike when its breezy for sure, the rolling resistance @ 60 lbs is the sweet spot at least for me. I think I could run 55, but will stay at 60 for the time. I have posted you all over facebook and I have a few overseas friends who might order.
After looking for several months for a set of carbon aero tubeless wheels I finally decided to give Andy a call. Very professional & knowledgable I decided to order a set with CXray spokes & bitex centre lock. When you think a set of Mavic's or Zipp of similar speck is nearly double the price it's a no brainier. Arrived well packaged. After riding several hundred miles I'm really pleased & best of my bike looks great & had lots of compliments
Fantastic Wheels. This is my 3rd set of wheels from Kinetic One and my first set of carbon disc wheels. Like my previous 2 sets, these wheels are superb, light weight, fast and bomb proof. Andy and his customer service is first rate and I will return to Kinetic One. A year on from purchasing the wheels I'm still extremely happy and Andy has helped once again when I have converted the wheels from Quick Release to Through Axle; all very simple.
Leave A Review