2024 Kinetic-One K1-42TL Alloy Road Disc Brake Wheelset.
You will earn
0 reward points
with this purchase
Sharing is caring

Send this to a friend
SCROLL ACROSS TO SEE OUR STUNNING NEW DECAL OPTIONS
INTENDED USE: Road, Sportives, TT's and Tri's.  This is our 42mm deep TARMAC / GRAVEL / CYCLOCROSS FOCUSSED deep section alloy road disc wheelset for clincher/tubeless tyres - Super-aero and super tough. 
Now in its 5th year of evolution - this years version is slightly lighter and more Aero than last years - and  we are sure this is still the worlds only fully clincher/tubeless compatible deep-section 700c alloy disc wheelset.  With a superlative 42mm deep rim, designed by Andy Morgan here in the UK and hand-made for us by craftsmen in Italy  -  it now has a stunning matt black hard-carbon anodised finish. Meaning it looks carbon but has the strength and pricepoint you would associate with alloys. So you really can have it all!
---

It may also be the world's fastest Alloy disc wheelset.... after all it occupies a unique place: a deep section alloy disc wheelset which has been fully aero optimised around 23-35mm tyres.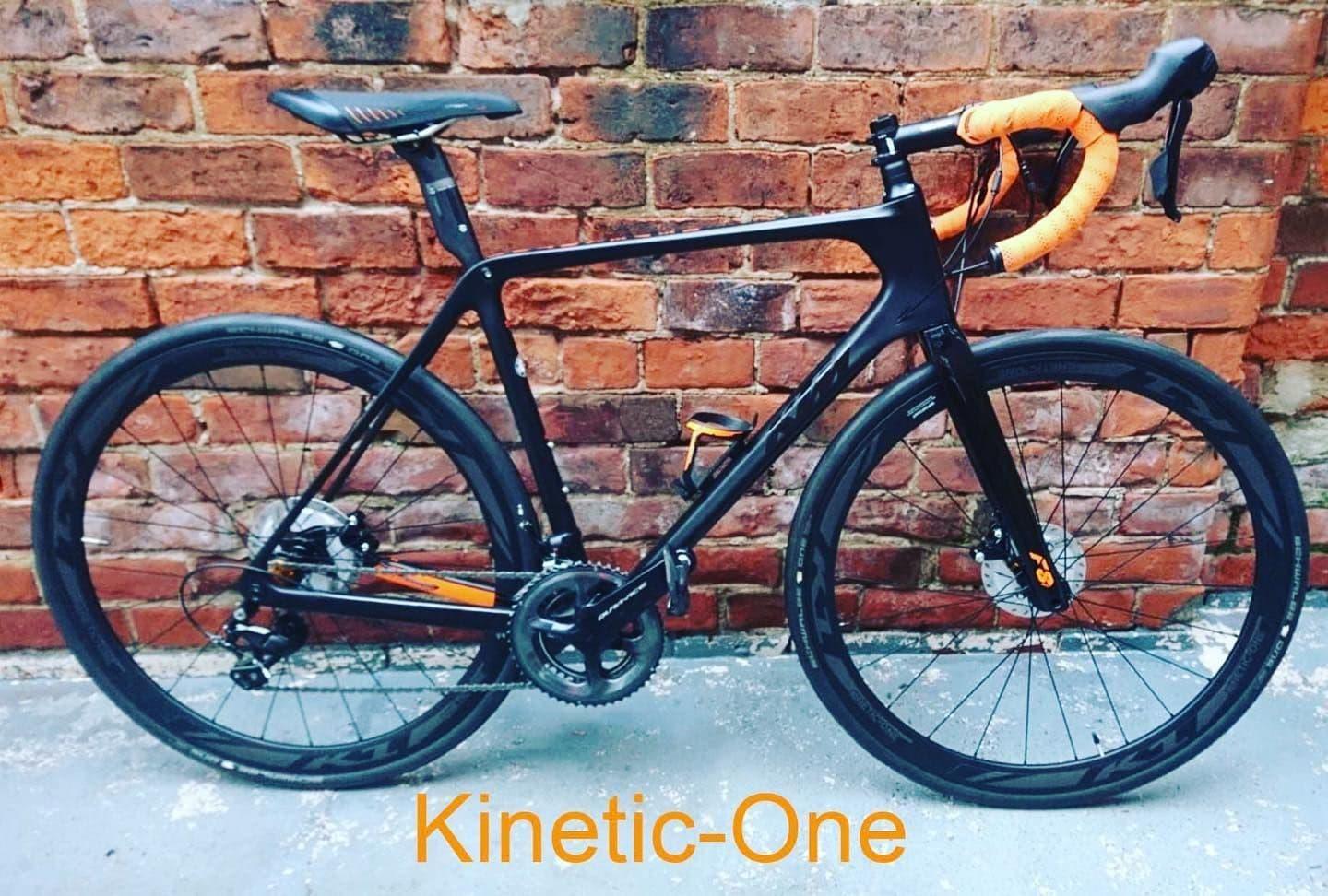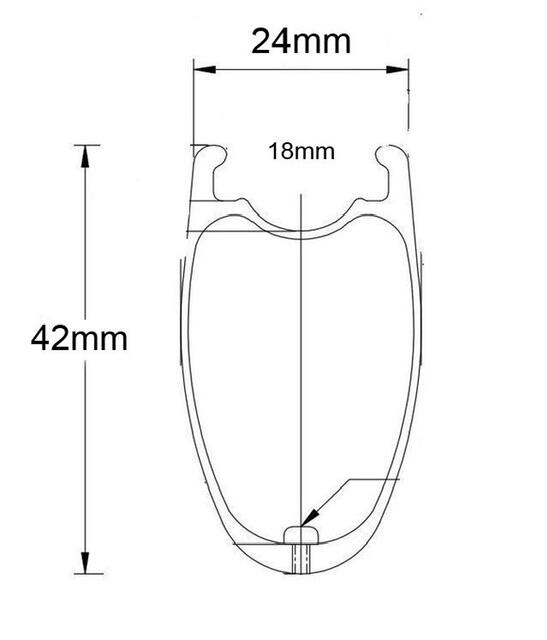 In short: It looks like carbon, has the same aero-profile as deep-section carbon, weighs very similar to carbon - and rides more like carbon than any alloy wheel weve ever made. It is also tough as they come. It is also the only seriously deep alloy to be tubeless and clincher compatible..... AND .. Its half the price of carbon!
Light and tough enough for the hilliest and roughest of Sportives, And fast-accelerating enough for racing, and of course, aero enough to ensure that you gain every possible watt of drag reduction.

The k1-42TL AeroDisc is built around our class leading  deep aero alloy rim, with it's pure speed profiling and its stunning "Hard-Carbon Anodised" finish.

The rim has an external width of 24mm and an internal width of 18.6mm - making it perfectly optimised  for 25c/28c/32c tyres (and right up to 50c in fact) in terms of both performance and seamless aerodynamics.
---
Your wheels will be hand built to order in the UK. (current build times are 14-21 days).
---
BUILD VERSIONS (Hub and Spoke Options)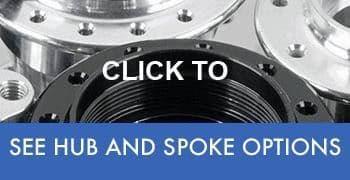 Miche Italian hubs as standard in our all season AEROFLOW build


From only 1765 grams, in the upgraded Bitex SUPERAEROLIGHT build version with Sapim's  light aero CX-Delta spokes -It is extremely light for a 24mm wide, fully 'deep-section' alloy wheelset. 
Or upgrade to the lightest Bitex hubs and CXRAY spokes (our SUPERAEROLIGHT** build) to save another 25 grams and further enhance the aerodynamics.
In addition to our choice of fantastically light and reliable Taiwanese Bitex hubs .... if you've got to have the best then why not upgrade to DTSwiss 350 - the best engineered hubs in the world!
---
It's an incredibly fast-moving time for road disc systems at the moment with lots of competing standards for Axle types and frame fitting methods and for rotor fastening.


The K1-42TL AERO DISC's are handbuilt to order and are available for the whole wide range of modern axle and rotor fitment systems. Whatever your frame needs we can configure these wheels to your bike. And even if you change your bike - the hubs are all simply convertible to all the other axles standards! We think that's massively important as it future-proofs your wheels! (no one wants to be left with the betamax of hub types and obsolete wheels!)
Technical details below.

Or just drop us a line If you don't know what system your bike has (you won't be alone -  many people very understandably don't know, they just want to ride their bike after all!)

AXLES : We can configure your wheel axles to meet your frame requirements. So whether you have standard quick release or the more modern "thru-axle" setup, or whether you have 135mm or 142 mm rear spacing, we can supply them ready-to-roll!

HUBS : We use quality DTSWISS and Bitex 6-Drive hubs (for both Centerlock and 6-bolt rotor builds). Weights below for c/lock. Add approx 100 grams for 6-bolt.


Hand built in the UK, and utilising top quality build components. We carry spare hubs, bearings, and should you ever need one - spare spokes!


TECHNICAL SPECIFICATION
RIM

Clincher/ Tubeless alloy 700c rim

WIDTH/DEPTH

18mm internal width/ 24mm external width. 42mm deep.

TYRE COMPATIBILITY

Clincher and Tubeless

FREEHUB AVAILABILITY
Shim 9/10/11/12, Campag 9/10/11/12, Sram XDR 11/12
FINISH

Graphite Matt Black

SPOKES

24/24 Sapim PSR AERO,
or Sapim CX RAY AERO spokes.

NIPPLES

Alpina Bontrager Hex

HUB

Miche, Bitex or DTSWISS Future proofed hubs - adaptable to all modern road disc standards. 

SUGGESTED MAX RIDER

120kg

WHEELSET WEIGHTS
(24/24 spokes)

MICHE : APPROX 1825 GRAMS


(Miche hubs/ PSR spokes

SUPERAEROLIGHT:
APPROX 1765 GRAMS: 


with Bitex  Hubs/ PSR AERO SPOKES. 


(VARIES DUE TO AXLE TYPES)

SUPERAEROLIGHT++
APPROX 1745 GRAMS: With CXRAY aero SPOKES/ BITEX SL HUBS  (VARIES DUE TO AXLE TYPES)


PLEASE NOTE QUOTED WEIGHTS ABOVE ARE LIGHTEST VERSIONS WITH ALLOY NIPPLES - BY DEFAULT WE BUILD WITH TOUGHER BLACK BRASS NIPPLES. Let us know when you order if you want alloy.




WEIGHTS ABOVE ARE FOR XDR - ADD 30 GRAMS SHIMANO


 
Reviews
Great wheels, run true, solid, outstanding customer service and the wheels look immense!
Was looking around for carbon wheels and then I saw these. They did a good selling job with what they wrote as I was a bit nervous about carbon wheel strength anyway - so it touched a nerve. I love these wheels. had them only 2 months so can't comment on long term durability yet - but they are still so true and really feel incredibly strong when riding them over bad roads etc. Bought them to race on but have to say that they are on my bike 24/7 already!
I'm really impressed with the build quality of the wheels, on my first ride I went down a pothole heard a bang and thought i'd damaged the front wheel but to my surprise the wheel was fine with no damage. Once up to speed they roll very well and i'm sure as the season continues I will see an improvement on my personal best times. As stated previously I can't believe how well they roll, in group rides on descents i'm having to apply the brakes and freewheel while my friends are still pedalling. Overall i'm very happy with the wheels and offer great value for money.
Thought i'd update you as to the durability of your wheels, I hit a large pothole last night that blew the tyre straight away at around 30mph. The inner tube had 2 splits about 1 inch long in them.. the wheels are perfect not a mark or dent in them and still run perfectly true. Excellent wheels and can't fault them in anyway having covered 2500 miles.
I also wanted to give you some really positive feedback on the two wheel sets I bought earlier this year. I can honestly say they are the best alloy wheels I have ever owned. The K1-42TL have made me fall in love with my cross bike all over again (sad isn't it!) I have put some Vitoria Corsa Speed G+ tubeless on and now have a rapid commuter bike for the summer as well as a mud loving crosser for the winter! I have also proven that they remain true after a low speed collision with an Audi A5 (whose bumper came off second best, unbelievably the driver said she thought cars had right of way at mini-roundabouts over bikes that's why she pulled out!!!). The K1-45 SL have done about 2000 miles on my Scott foil and are still immaculately true and look almost new! I recommended you to a friend who is also delighted with his new wheelset.
Leave A Review